Catholic Schools Week: Introducing Mercy McAuley HS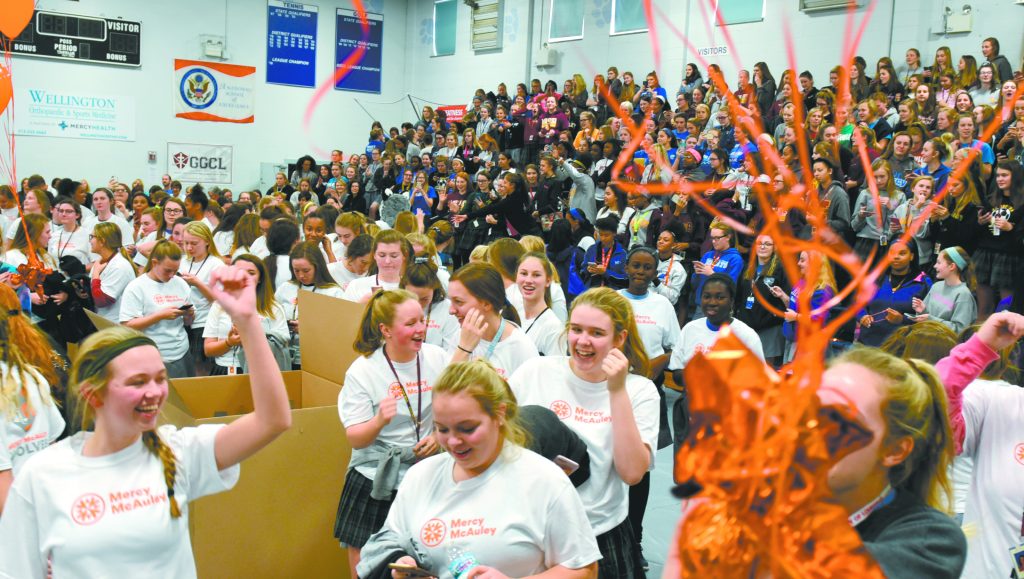 "Building a new school with faith and unity"
Students excited, ready to begin new chapter in Mercy education
By Eileen Connelly, OSU
Sisterhood, unity, and the opportunity to continue the long tradition of Catholic, Mercy education for young women in Cincinnati were celebrated Dec. 8 when students, faculty, and staff from Mother of Mercy and McAuley High Schools gathered for a joint pep assembly for the "reveal" of the new colors, mascot, tagline and logo for the new Mercy McAuley High School. The school is set to open in August at McAuley's current campus on Oakwood Avenue in College Hill.
The Sisters of Mercy South Central Community, stewards of Mercy and McAuley, announced plans for the new school in March of last year, citing declining enrollment at both schools.
Since then, a transition team chaired by retitred Elder High School Principal Tom
Otten has worked hard to address concerns and seek input from parents and alumnae from both schools, and formed sub-committees to hammer out details related to academics, student and spiritual life, athletics, and transportation.
"I've been spending a lot of time at both schools and the atmosphere is very positive," Otten said. "The students seem to love the idea of being together. Kids are kids. They see the bright side of things and are excited about the future.
"They're helping parents and alums come to grips with the fact that while change can be painful, it's ultimately for the best."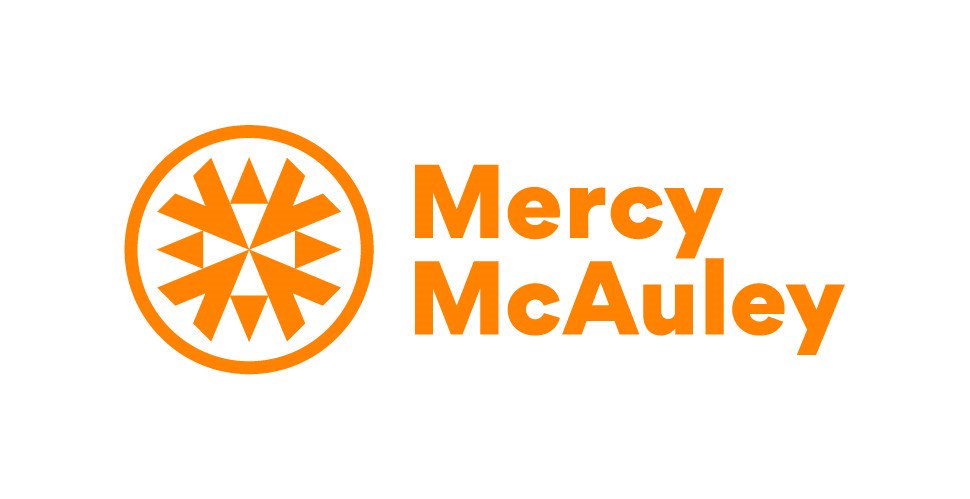 In November, the sisters announced the new president and principal appointed after a national search. Patty Ragio will serve as president of Mercy McAuley High School. A 1985 Mercy graduate, Ragio has served in a variety of education and non-profit development roles for the past 25 years.
"My Mercy education had a tremen-
dously positive, lasting impact on my life and made me the person I am. It is one of the reasons why I've taken this position," Ragio said.
     "My vision for Mercy McAuley High School is to provide the best, most excellent Mercy education that distinctly sets us apart from other school choices.
"I intend to honor the Sisters of Mercy legacy that I've experienced," she added. "I'll be empathetic and challenging in a positive way. I believe we should train our students for the future, but do our best to honor the past. I intend to lead this organization so that Mercy McAuley High School becomes the best, most innovative Catholic girls' school in our region."
Connie Kampschmidt will serve as the school's first principal. A 1970 graduate of Mercy, Kampschmidt has been the assistant principal at McAuley since 1992, overseeing curriculum, student discipline, faculty hiring and evaluation, and operational activities, and assisting in building expansions and renovations.
"I'm excited about the opportunity to be part of the leadership that will ensure Mercy education in Cincinnati for a long, long time," Kampschmidt said. "My vision for Mercy McAuley is an innovative school where every student can succeed and become someone who makes a difference in the world."
Ragio assumed her role as president part-time beginning Nov. 1, and will move fulltime on April 1. Kampschmidt will become principal effective July 1. All current faculty and staff of both schools will remain in place through the end of the 2017-2018 school year. Staffing at Mercy McAuley will be based on student needs, Otten said. School officials will have a better idea of those needs when enrollment figures are solidified after Jan. 31.
On the Feast of the Immaculate Conception, the day the new school's colors, mascot, tagline, and logo were announced, Mercy students were bused to McAuley for the joint pep rally. The current juniors at both schools, who will be the first senior class to graduate Mercy McAuley, came "charging into the gym," said Wayne Morse, a transition team member. "The girls were just beside themselves. There was pandemonium and great fun."
The new tagline, "Opening Hearts. Opening Minds. Opening Doors." is reflective of the core values of the Sisters of Mercy — faith, compassion, leadership, service, excellence, Otten said.
Rather than pursuing a combination of Mercy's blue and white colors or McAuley's gold and burnt sienna, the new school's colors will be orange, white and gray – with orange as the  primary color. The  mascot will be a wolf, described in branding materials as "strong, loyal, and intelligent. Wolves are pack animals, devoted to the good of the group. Wolves rise to challenges, solve problems, and win as a team."
Students from both schools had the chance to bring their new mascot to life over the Christmas break, under the direction of Randy Kent, theater tech director at McAuley High School. The young women say it was one of many opportunities to play an active role in a new Mercy tradition and build unity between the Mercy and McAuley communities.
"To help in bringing these two schools together as one, I think it was an excellent idea for the five of us (including Mr. Kent) to work together," said McAuley Junior Amber Hafele. "I look forward to many more opportunities to help lay the groundwork for a strong Mercy McAuley future."
"Helping design the new mascot means that I'm leaving my mark on the new school," said Mercy sophomore Madeline Murphy. "I've helped to create something that will be remembered for many years. It was surreal to know that I was working on what will represent us and be our identity. I think these sort of activities bring the schools together by building teamwork. We are working with each other and learning how to be one team, and one school."
Ragio and Kampschmidt say they believe the excitement surrounding Mercy McAuley will continue to grow as the 2018-19 academic year approaches and the new school becomes a reality.
"We're building a new school from the ground up, not with bricks and mortar, but with faith and unity," Kampschmidt said.
"We're looking forward to filling up the classrooms, and to the chance to inspire and empower young women," Ragio added.
"This is a tremendous opportunity to impact the future of Catholic education. When we come out of the transitional phase in a few years, we intend to be a model for other schools."