Catholic Schools Week Mass in Cincinnati 2018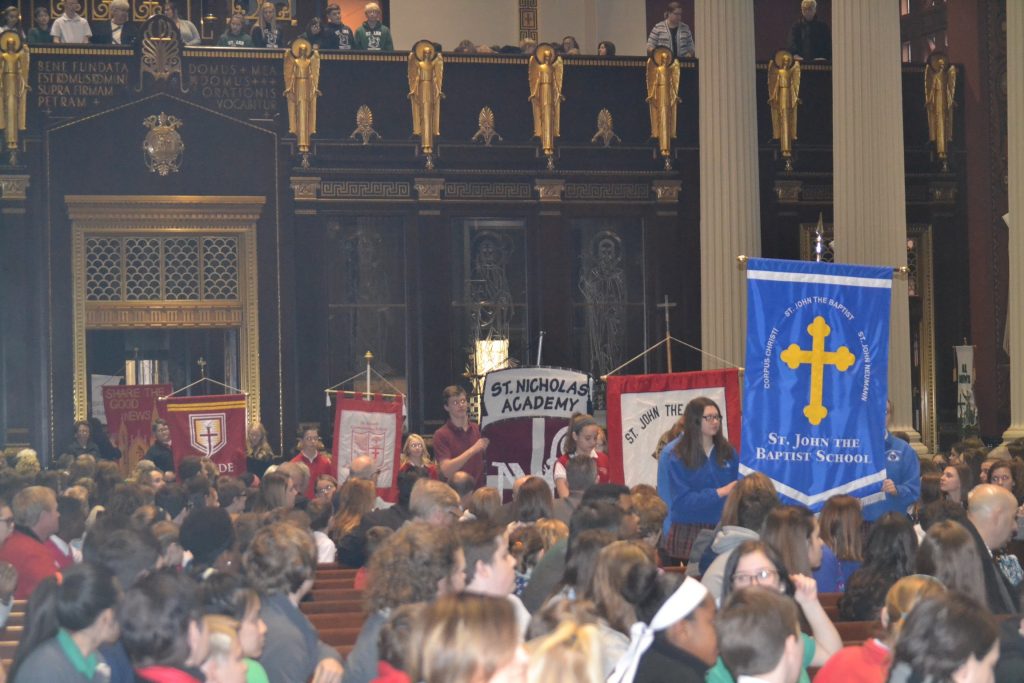 "You are important to the Church," Archbishop Dennis M. Schnurr told students from more than 80 Catholic elementary and high schools and two colleges at the annual Catholic Schools Week Mass at the Cathedral of St. Peter in Chains Tuesday. "You are important to the Church and to your parishes.
"It's great that you have such pride in your schools. This is a day to say we are all proud to be part of the Catholic school system, a day for rejoicing. But while I know you're involved in your schools, I urge you to go and be active in your parishes."
Buses of students arrived for an hour before the 10 a.m. Mass, carrying teams of about 12 students from each school, principals and teachers, and the all-important school banner.
Because the cathedral ceilings are no impediment, school banners have become an important part of the Mass, which begins with a procession of students from every school. The banners come in all shapes and styles: turn-of-the-last-century parade-style pennants (Elder and La Salle High Schools), appliqued flag vinyl (Our Lord Christ the King), machine embroidered felt (John Paul II), quilted cotton (Mercy Montessori, Sr. Ursula Villa), printed vinyl (Good Shepherd Catholic Montessori School, Sts. Peter and Paul), glued felt (St. Lawrence). Some were made by students, some by parents or artists, some by professionals.
They're emblazoned with shields, depictions of saints, official seals, and paintings; with mottoes ("For the Greater Glory of God" – St. Ignatius Loyola; "Semper Altius" – Royalmont Academy, "Dream Achieve Soar" – St. Rita School for the Deaf, "Fides Beneficium Conscius" – St. Joseph Consolidated School).
The bright red Guardian Angels school banner resembles a Greek Vestment, with heavy gold embroidery and trim, a central icon-inspired printed picture of an angel and two children, and three pendant tails. Principal Corey Stoops said the banner is used every month for all-school Mass, as well as for the annual Mass.
Cindy Hardesty, Director of Eastern Region and Northwest Schools for the archdiocese's Schools Office, said other diocese from around the country call for information about how to hold a central Catholic Schools Week Mass, rather than a series of Masses at individual schools and parishes. "Catholic Schools Week is a celebration of schools," she said, "and how we celebrate is through the liturgy."
Students from all over the southern part of the archdiocese participated throughout the Mass, and the choirs of La Salle, McAuley, and Mother of Mercy Schools sang. A number of priests concelebrated, as did visiting Bishop Emmanuel Abbo from Cameroon.
Paraphrasing Mark Twain, Archbishop Schnurr told the students that people often wait for God to hit them with a bolt of lightning and tell them His plan for their lives, while "lightning bugs" — the voices of other people, including their parents, teachers, and coaches – are quietly teaching them how to live.
"Too many of us plod along through life, waiting for the lightning bolt and settling for a life of mediocrity," he said, "But it's God who knows clearly which path brings joy, and He gives each of us the talents we need. For most of us, His invitation to say 'yes' is going to be subtle. And as today's Gospel tells it, it may be difficult. We might think He's asking too much.
But young people appreciate a challenge, he continued, promising that when God presents a challenge, He will also provide everything needed to overcome it. "So be prepared for the lightning bolt," he said. "It might happen! But at the same time, be attentive to lightning bugs."
Schools in the Northern part of the archdiocese will celebrate Catholic Schools Week Mass at 10 a.m. on Wednesday, Jan. 31, at Incarnation Church in Centerville.