CEMETERY MAGAZINE HONORS GATE OF HEAVEN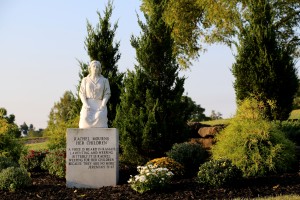 Gate of Heaven Cemetery in Montgomery, a ministry of the Archdiocese of Cincinnati, was one of three runners-up for the annual ACE (American Cemetery Excellence) award from American Cemetery & Cremation magazine.
"This year's three runners-up stood out not only for their performance, professionalism and innovation," the magazine wrote, "but also for their ability to look to the past to envision the future."
The magazine's profile story described the 160-acre Gate of Heaven as "serene, peaceful, majestic."
"What we have been able to do is build a culture of care," said Debra Crane, Director of Cemeteries for the Archdiocese. "We've been blessed with beautiful grounds, a unique piece of property with rolling hills in the midst of a city that provides visitors with a serene and peaceful place of reflection." The Roman Catholic Archdiocese of Cincinnati is the 38th largest Catholic diocese in the country, with almost 500,000 Catholics, and has the sixth largest network of Catholic schools in terms of enrollment.  The 19-county territory includes 211 parishes and 111 Catholic primary and secondary schools.