Chatfield College announces $5 million capital campaign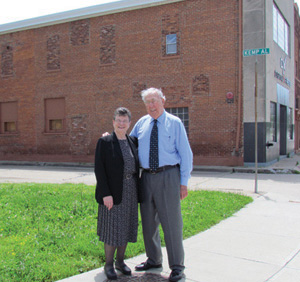 Press Release
Chatfield College, Cincinnati's private, Catholic, associate degree College founded by the Ursulines of Brown County, has launched a $5 million capital campaign, called "Building Community."
"Building Community" is derived from one of the nine counsels of St. Angela Merici, who founded the Ursulines in 1535.  "Build Community Wherever You Go" is from St. Angela's Fifth Counsel, and reflects the significant legacy of the Ursuline Sisters as well as Chatfield's commitment to higher education and service.
Co-chairing the campaign are Shannon Garry Keesee and Kip Heekin.  Honorary chairs include Ursuline Sister Lucia Castellini, congregational minister of her community, Rev. Damon Lynch, Jr., and Robert A. Conway. All are long-time supporters not only of Chatfield's mission, but also of the Brown County and Greater Cincinnati communities, including Catholic schools and Over-the-Rhine.
"True to its Ursuline heritage, Chatfield College is committed to helping people improve their lives through education," said Sister Lucia. "Chatfield serves a population that largely comes from a background or culture where education has been undervalued, and who need a supportive, small college experience to help them succeed. That is why we all are involved in the Building Community Campaign."
Chatfield empowers those students to succeed, said Sister Lucia, through such things as individual attention and small class size, and by helping students to overcome the financial, situational, and familial challenges that face them.
The $5 million campaign will increase the existing endowment for student scholarships, fund renovations on the college's historic St. Martin campus in Brown County, and support the renovation of 1544 Central Parkway in Over-the-Rhine, the recently purchased 18,000 square foot building that will provide a permanent, downtown campus for Chatfield College.
The Endowment Fund at Chatfield College is used exclusively for student scholarships. The college awards over $100,000 annually in scholarships to more than 10 percent of the student population.  Chatfield currently has 23 named endowed scholarships, and it is the college's goal to reduce and hopefully eliminate its students' reliance on loans.
Plans for the St. Martin campus in Brown County include the renovation and expansion of Chatfield's gymnasium (built in 1863) to create a Student Services Building that will house a theater, performing and visual arts lab, and integrated space for student services as well as an addition that will include new, accessible restrooms, elevator access, and mechanical upgrades. The Welcome Center will also be expanded and modernized to contemporary standards to include more offices and accessible restrooms. Other campus improvements include additional and upgraded parking and improved traffic patterns.
During its first six years of operation in Over-the-Rhine, Chatfield has outgrown its leased space located above St. John's Social Services near Findlay Market. Enrollment has grown from 74 students in 2009 to 376 over this past academic year, an increase of approximately 400 percent. The college recently purchased a vacant building just blocks from Findlay Market, to be developed into a larger, student-centered campus in the heart of Over-the-Rhine. The building will provide facilities and resources equivalent to those of the St. Martin campus, including science and performing and visual arts labs, a high-tech learning center, and green space.
"In order to be successful, our students, faculty and staff need state of the art facilities where they can effectively teach and learn," said Campaign Co-Chair Kip Heekin. "We are not building and renovating facilities so that we have the newest or shiniest or biggest. This campaign is not about bells and whistles. We are doing it to meet a demonstrated need and to provide a quality collegiate experience for our students. It's about education."