Chatfield's new Cincinnati campus to include sacred space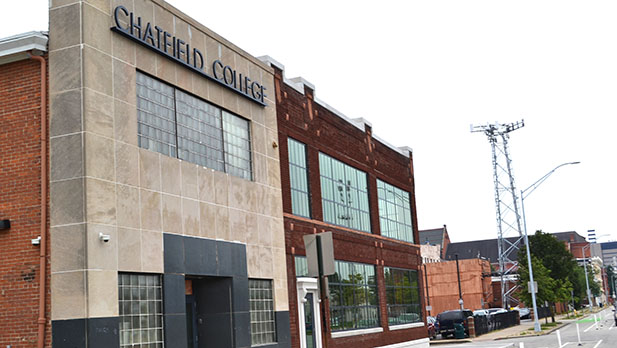 By Eileen Connelly, OSU
The Catholic Telegraph
When classes begin at Chatfield College's Cincinnati Campus in Over-the-Rhine Aug. 24, the diverse student population will not only have classroom space to enjoy, but also a beautiful chapel
"We have been a part of the Over-the-Rhine community for many years, and we are committed to the future of this area and the population it serves," said John Tafaro, president. "When it became apparent that we outgrew our leased space above Mercy/St. John's Social Services [in Over-the-Rhine], and began planning for a permanent campus, we chose to invest in the revitalization of Over-the-Rhine because we believe this area should have a regionally accredited liberal arts college here to serve its residents, as well as adult-learners and traditional-aged students in surrounding neighborhoods."
Read More from the August 2015 College Section
MSJ plans social justice program
Make all things new: Dayton chapel renovated
Xavier website offers new resources
Renovation on the historic building, located at 1544 Central Pkwy, began last year.
The 18,000 square foot space will provide classrooms, science and performing/visual arts labs, and a high-tech learning center, in addition to the chapel. Located just blocks from Findlay Market, there will be easy access to city bus lines, bike lanes, and, eventually, the new street car. The majority of current Chatfield students rely on public transportation.
The inclusion of a chapel in the new facility was a  given, Tafaro said.
"Our goal is for the OTR students to have the same resources and benefits that the students at our St. Martin campus in Brown County have. Obviously, we can't duplicate the 19th century gothic architecture of Sacred Heart Chapel, but we can give them a space that is quiet, prayerful and reflects our values and those of St. Angela (Merici, foundress of the Ursuline Sisters)."
Chatfield College was established by the Brown County Ursulines in 1971, named for Sister Julia Chatfield, who founded their community in St. Martin. Bearing the name of St. Angela, the new chapel will feature stained glass windows with a Creation theme; a handcrafted Wall of Intentions, resting benches and a bookcase; handcrafted works of art reflecting Ursuline heritage; and framed quotations from St. Angela. The sacred space will serve as a reminder that although Cincinnati and St. Martin are separate campuses, they are one community holding each other in prayer.
Because Chatfield serves students of many faith traditions, "we want the chapel to be a welcoming and prayerful space. Our Catholic identity and Ursuline heritage are important to us. Having St. Angela's chapel available to our students is just the right and natural thing to do," Tafaro said.
This story originally appeared in the August 2015 print edition of The Catholic Telegraph.