Chinese bishop visits Dayton area schools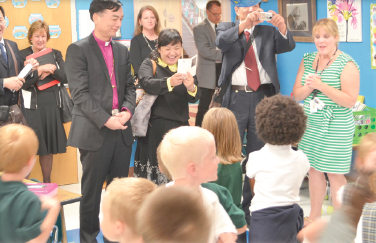 By Steve Trosley
The Catholic Telegraph
KETTERING – It took some patience and an interpreter but Megan Apple explained her school's Autism program to a team of Catholic Chinese educators seated around the lunch table in the teacher's lounge at St. Albert the Great elementary school.
The Kettering school was one of three stops that Bishop Francis Lu Xinping of Nanjing, China, made in the Dayton area Sept. 11.
He and his team first visited the University of Dayton and then toured the new STEM center at Chaminade Julienne High School. Although Bishop Lu visited each classroom at St. Albert, he was primarily there to hear about the program Apple had developed and cut off "They have a program at St. William in Cincinnati," she said but there was nothing in the Dayton area for children diagnosed with Autism or Asperger Syndrome. In 2011, the program began with a parishioner or their child who had autism but wanted the child to be educated in a parochial school setting.
Apple, who has an undergraduate degree from University of Dayton and earned her master's in special education with emphasis on PDD/Autism Spectrum Disorders, built an experienced staff that included a speech and language therapist, an occupational therapist, a music therapist and three aides.
She explained to Bishop Lu and his team that she received significant support from all teachers at St. Albert and that each of the students currently in the program have families that are heavily involved in their therapy. She also said there was a parishioner who financially supports students who might not otherwise be able to afford the program.
In addition to academic skills, she said, the program also works on functional behavior and on social skills.
As each part of Apple's presentation was completed, the eyes of Bishop Lu's team would track to the interpreter who would then repeat in Chinese what Apple had said. The interpreter would then translate the group's questions into English for Apple.
The bishop's team then followed him from room to room as he was greeted by kindergarteners, who sang for him, with each one coming forward to shake hands with all of the visitors.
His team, using smart phones and tablets, recorded everything from wall murals and posters, to motivational banners to children involved in various classroom activities.
This article originally appeared in the October 2014 print edition of The Catholic Telegraph. 
Posted Oct. 3, 2014