CISE Annual Campaign raises $2,900,000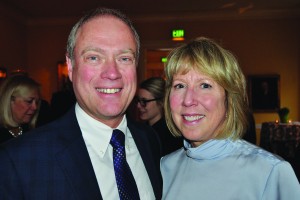 George Vincent, managing partner and chairman of Dinsmore, was recognized for his contribution to Catholic Inner-city Schools Education Fund (CISE) at a reception at the University Club of Cincinnati. Vincent served as the Chairman for the 2015 CISE Annual Campaign, which raised $2,900,000, well exceeding the campaign goal.
Vincent was supported in this endeavor by a team of dedicated CISE board members and volunteers.  James B. (Rick) Reynolds and Jim Hagerty, investment ddvisors for Bartlett, co-chaired the Major Gifts Committee. The Young Executive team of volunteers was led by Andrew Williamson, assistant vice president, private banker, The Private Client Reserve of U.S. Bank and Alex Kummer, senior accountant at Clark Schaefer, Hackett & Co.
A highlight of the evening was when student ambassadors from St. Francis Seraph and St. Joseph schools came to the podium. All three confidently addressed the assembled volunteers, expressing their appreciation and sharing their plans for the future. Laurence Christian, an eighth grade student from St. Joseph School, spoke as his mother proudly looked on, "My mother has always taught me to be respectful, but St. Joseph made sure I practiced it," he said.
Laurence concluded his remarks, saying, "Please don't walk away from this event believing that your financial support is your only contribution. You provide so much more than that. You've provided me with a safe place to learn, I'm a little closer to God, I was surrounded by people who love and care about me, but most of all I plan to be just like you. I will pay it forward."
"I would like to thank the entire staff at St. Joseph and CISE for helping my mother and shaping me into the young man I am today," he added. "This experience has allowed me to see that the word impossible really means I'm possible. Your actions have spoken much louder than any words, and I will never forget it."
Transcripts of all three student's remarks can be found at www.cisefund.org.
CISE Director Cary Powell, said, "We at CISE are so grateful for the leadership of Mr. Vincent, which led to the success of this year's campaign. Their efforts and those of our many volunteers and generous donors will help change for the better the lives of the students in the CISE schools as well as our entire community!"
The CISE Annual Campaign benefits 1,800 students in the eight Catholic elementary schools supported by CISE. These schools include: St. Joseph, St. Boniface, St. Francis Seraph, Holy Family, St. Lawrence, Resurrection, Corryville Catholic and St. Francis de Sales. The poverty rate at CISE schools is 90 percent.
There are also 200 CISE elementary school graduates attending Catholic high schools with support from the CISE High School Grant Program. For more information about CISE, visit www.cisefund.org, or call the CISE office at 513-421-3131, ext. 2751.
This press release first appeared in the May 2016 print edition of The Catholic Telegraph.