City Council unanimously declares Cincinnati 'immigrant friendly'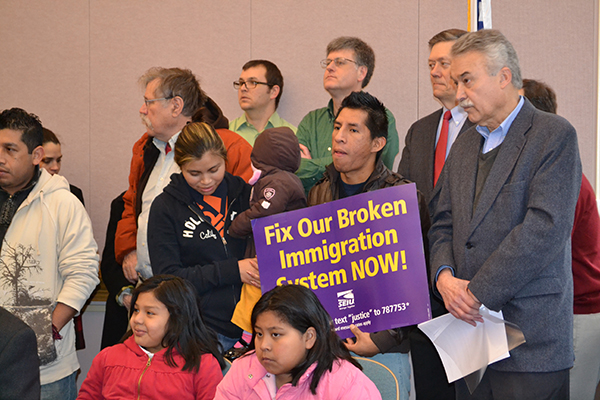 By John Stegeman
The Catholic Telegraph 
After hearing directly from immigrants and advocates during public comments, Cincinnati City Council unanimously passed a resolution recognizing the council's commitment to improving the lives of immigrants and fostering civility and respect for those immigrants living in Cincinnati.
The resolution, sponsored by Vice Mayor Roxanne Qualls and CouncilwomanYvette Simpson, started as an effort of the Metropolitan Area Religious Coalition of Cincinnati, the Archdiocese of Cincinnati and the American Jewish Committee, along with the support of dozens of other religious and community groups.
The resolution calls on the United States Congress and presidential administration to pass and enact comprehensive immigration reform this year, supporting a plan with a pathway to citizenship. In addition, it calls on the city of Cincinnati and other governments in Ohio to support initiatives that more fully welcome the participation of immigrants in their respective communities.
"In our Cincinnati parishes, schools and human service agencies, we worship, learn and live beside more recent immigrants to this land," said Tony Steiritz, Catholic social action director for the Archdiocese of Cincinnati. "Consequently, we are also wounded when we witness these immigrant families torn apart by a broken immigration system."
Qualls said that making Cincinnati an immigrant-friendly city will grow the city's population, and build a stronger Cincinnati.
Ted Bergh, CEO of Catholic Charities Southwestern Ohio, addressed the council during public comments, commending them for their leadership in taking up the resolution.
"Each wave of immigrants has contributed to the welfare of Cincinnati," Bergh said. "This latest wave of immigrants is making significant contributions to Cincinnati, and will make a greater contribution when a pathway to citizenship is a reality. We commend Cincinnati City Council and urge passage of the resolution."
In addition to the Archdiocese of Cincinnati and Catholic Charities Southwestern Ohio, other Catholic organizations named as supporting the resolution were: the College of Mount St. Joseph, the Congregation of Divine Providence, Franciscan Friars (OFM), St. John the Baptist Province, Franciscan Justice and Peace Office, Santa Maria Community Services, SC Ministry Foundation, Sisters of Charity of Cincinnati, Sisters of Mercy South Central Community, Sisters of Notre Dame de Namur and the Su Casa Hispanic Center.
Cincinnati followed the city of Dayton, which passed an immigrant-friendly plan of its own in 2011.
For more on this story, see the April print edition of The Catholic Telegraph.