Cleveland priest who leads breakaway faith community excommunicated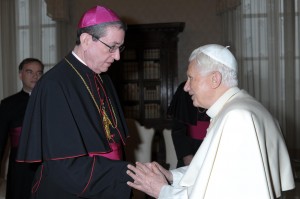 By Dennis Sadowski Catholic News Service 
WASHINGTON (CNS) — A Cleveland priest who leads a faith community formed after its parish was closed in 2010 has been excommunicated for schism.
Bishop Richard G. Lennon of Cleveland said in a March 4 decree that Father Robert Marrone, who is identified as pastor and administrator of the Community of St. Peter, incurred the excommunication "latae sententiae" (automatically) for failing to reconcile with the Catholic Church.
Canon 751 of the Code of Canon Law defines schism as "the refusal of submission to the supreme pontiff or of communion with the members of the church subject to him."
Father Marrone has celebrated weekly Mass and the sacraments for the 300-member community since August 2010.
The priest could not be reached for comment.
Frank Titas, a Community of St. Peter board member, told Catholic News Service March 6 that members were saddened and disappointed by Bishop Lennon's action.
"He characterizes it as an attempt to bring about unity," Titas said. "It seems it's a step in really the opposite direction."
The Community of St. Peter includes former parishioners of Cleveland's St. Peter Parish, which closed in April 2010 under a diocesan-wide downsizing plan. Father Marrone was the pastor of the parish.
Parishioners upset with the parish's closing formed a nonprofit corporation and rented space in a former factory to stay together as a Catholic worship community and continue various ministries in Cleveland's inner city. Father Marrone decided to join the community after seeking a leave of absence from the Cleveland Diocese soon after the parish closed.
St. Peter Parish reopened in September with another pastor under a Vatican decree that said Bishop Lennon violated canon law in closing it and 10 other parishes. For the most part, community members declined to rejoin the parish.
Diocesan spokesman Robert Tayek told CNS March 6 that Bishop Lennon is willing to meet with community members "over this serous matter."
"It's kind of in their court," he said. "We're leaving it up to them."
Bishop Lennon had said in a letter to community members soon after the parish closed that they risked excommunication if they formed a group outside of the auspices of the Catholic Church.
Titas said a decision whether to meet with the bishop will be made by the community's board.
"The community has been doing great," Titas said. "We're growing. It's been a wonderful experience in terms of the vibrancy of the group. Things are going well. We hope that we can continue to move in a positive direction and be a meaningful force in our community and carry out the word."
Bishop Lennon explained in his statement that he took the extraordinary step of pursuing Father Marrone's excommunication after several attempts to reconcile him with the church.
"Father Marrone's actions have been in direct defiance of the church's teachings and authority," the statement said.
After St. Peter Parish closed, Father Marrone asked for a leave of absence from active ministry, under which he agreed to only celebrate the sacraments privately, Bishop Lennon said.
Except for two meetings, the bishop said, the priest declined to respond to multiple requests to meet "in order to persuade him to disassociate himself from and cease leadership in a group which has separated itself from the governance of the Diocese of Cleveland."
Bishop Lennon said he began steps under canon law to declare the excommunication in October, after a fourth unsuccessful attempt to meet with Father Marrone.
"It is my prayer that the declaration of excommunication may impress upon Father Marrone the serious nature of the offense he has committed," Bishop Lennon said, expressing hope that the priest will seek to reconcile with the church.
Under canon law, Father Marrone has 10 useful days — in church legal parlance — to appeal his excommunication, meaning he has 10 days to appeal from the time he learns of the action.