College students experience virtual injustice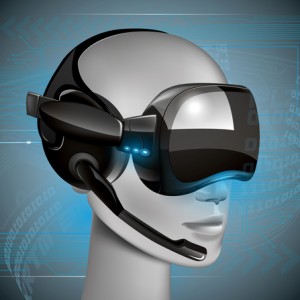 By Andrea Koverman, SC
During the week of Oct. 17 hundreds of students from both Mount St. Joseph (MSJU) and Xavier Universities had a unique opportunity to consider to what degree the current criminal justice system reflects one of the tenants of the Catholic faith, namely that all human life is sacred and the dignity of the human person is the foundation of a moral vision for society.
Brought to their campuses through a collaborative project funded by the SC Ministry Foundation, the Intercommunity Justice and Peace Center (IJPC) and Catholic Mobilizing Network (CMN) developed an interactive exhibit including a nine minute virtual reality experience of a solitary confinement cell, a gallery of testimonials from individuals who either were or still are in solitary confinement, information about the research that led the United Nations to declare solitary confinement a form of torture, the controversies over Ohio's capital punishment system, and principals of restorative justice as an alternative to our current system.
Particular attention was given to Ohio's lack of response to the Ohio Supreme Court Joint Task Force Recommendations made after their finding in 2007 that Ohio failed to meet the American Bar Association's basic standards of fairness and equity in 93 percent of the capital cases they reviewed. Participants were additionally educated about a current piece of legislation introduced by Senators Seitz and Williams that they hope to see passed into law: SB 162. This bill proposes that individuals who commit a murder while carrying a diagnosis of a limited number of serious and delusional mental illnesses not be eligible for execution, while remaining accountable for their actions with an alternative sentence.
As word spread through campuses about the virtual reality experience, more and more students came by. By lunchtime on the second day at MSJU, the Seton Center lobby was packed while people waited for their turn. The high quality technology and novelty drew the students in, but the subject matter was new and often disturbing information for them. Many were teary-eyed when they removed the headgear and made comments to the effect that they had no idea what prison was really like, or how torturous it is to be denied human contact or sensory stimulation. The connection was made through conversation about these conditions for death row inmates, often for decades before their execution. Nearly all participants wanted to encourage their officials to support reform efforts, and went away equipped with a new understanding of the reality of criminal justice system and the aspects of it that are contrary to Christian values. Postcards advocating for change were provided by Ohioans to Stop Executions (OTSE) and will be sent to the governor, and state senators and representatives.
For more information about the project, or to inquire about bringing the exhibit to your location, contact Sister of Charity Andrea Koverman, IJPC program manager, at [email protected]