Father Gus Guppenberger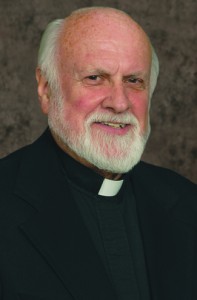 CINCINNATI—Father August "Gus" Guppenberger, 81, a native of Batavia, N.Y., and a Glenmary Home Missioner for 59 years, died Nov. 6 in Cincinnati, Ohio. Father Gus brought his outgoing personality to missions and ministries in five states — Ohio, North Carolina, Texas, Georgia and Kentucky. Along with his ministerial efforts, Father Gus was known for his white beard and a joyful demeanor that allowed him to play Santa Claus for children each winter.
"Father Gus was a man who bestowed and received the joy of the Gospel," Glenmary president Father Chet Artysiewicz said. "He delighted that he was able to elicit joyful responses through his Santa Claus portrayal. And throughout his travels, the people and customs he encountered touched him with joyful gratitude."
Father Gus professed his First Oath as a Glenmarian in 1957 and was ordained a priest in 1961.
Reception of the body will take place at 4:30 p.m. Monday, Nov. 14 at Our Lady of the Fields Chapel, 4085 Glenmary Trace, Fairfield, Ohio. Visitation will follow, and a wake service will begin at 7 p.m.Mass of Christian Burial will be at 10 a.m. Tuesday, Nov.15 at St. Matthias Catholic Church, 1050 W. Kemper Rd., Cincinnati, Ohio.
Memorials may be made to Glenmary Home Missioners, P.O. Box 465618, Cincinnati, OH 45246-5618 or at www.glenmary.org. Newcomer Funeral Home is assisting with arrangements.
For Father Guppenberger's Obituary go to http://www.glenmary.org/site/epage/110110_919.htm#sthash.6gmSwF92.dpuf