Coloring in the "extraordinary form"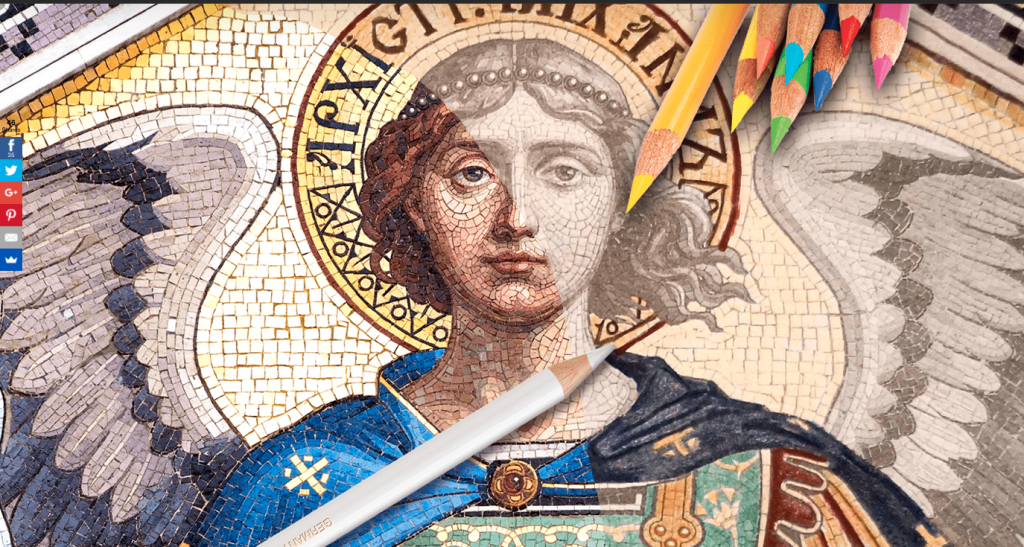 Mercer County couple's Catholic coloring books promote prayer
By Walt Schaefer
Tim and Mandy Hill have combined the beauty of Catholic art and a popular hobby to create an opportunity for reflection, meditation, evangelization, and enjoyment.
Presently living in suburban Denver as Tim Hill completes a Masters of Arts degree at the St. John Institute at Walsh College concentrating on faith foundation, the Hills belong to St. Mary Parish, Philothea, in Mercer County, where Hill grew up on the family farm. While in Colorado, they decided to produce and market a Catholic coloring book piggybacking on the rising popularity of adult coloring books commonly found in hobby shops and book stores.
"My wife and I started developing this book into something for anyone – adults, kids," said Hill. "We wanted to focus on putting some of the beauty of the faith, and traditions of the faith, in front of people and let them be part of it – understanding how the art relates back to the faith and the traditions of the faith."
Though children can and do color the ChromaCat pages, Hill said, "it is an adult coloring book.  It's definitely more complicated. These take more time to do. All of them are mosaics taken from high-definition photographs from different places in Europe."
ChromaCat (in Latin, "chroma" means "color," and "Cat" is short for "Catholic") is the first and only "Extraordinary Form" Catholic coloring book series. The images are grayscale and printed on heavy, acid-free paper, and are meant to be colored in layers using white and colored pencils. This allows the gray to show through as shading, giving the resulting images depth and realism. The first of three planned books "Mosaics" is includes images from mosaics around the world.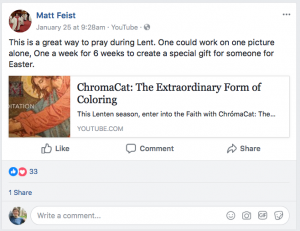 To help guide the user, the book is printed with the original mosaic in full color on the facing page. "It's a coloring book combined with a book of beautiful images," said Hill. "There's a meditative saint or Scripture quote on the back of each page to help you pray for someone as you color." Pages are perforated, so each image can be removed and sent as a work of mercy in gold envelopes that are included with each purchase. It is a special gift because it's a holy image, it takes time, prayer is the best gift, and it is sent in a special way."
Coloring the images can help users connect with the history of Catholic faith and art, the Hills said. The book can become an evangelization tool when the images are shared with others. "We wanted to intrigue adult Catholics to dig deeper into the roots of their faith and the Mass," Hill explained. "Coloring has been popular for relaxation reasons. We wanted the book to also serve someone else, rather than just for the buyer's own gratification. By praying for and sharing the image with that person, we hope, these holy reminders will touch souls."
The Hills have six children, and discovered that they also enjoy the books. "We have found from our four-year-old to our 11-year-old, and from our artistic to our non-artistic children, boy or girl, they can all color these," Hill said. "In fact, it teaches them how to color better, because the grayscale has the shading already done. They get a 3D image and feel that they can be an artist.
"The best part, though, must be that holy images are being imprinted forever on their souls and tradition is being passed down."
The Hills promote the slow coloring process as "coloring your way to holiness" — a way to practice contemplative prayer. "One picture should take you more than one sitting. So, I don't think you're going to get to 36 images in, say, Lent," Hill said. "You may finish three or four. We don't want people to speed through this."
Father Matt Feist, parochial vicar for the Fort Recovery Cluster of four parishes, has been promoting the mosaic book on Facebook. "There is a focus on theology, and it's also an evangelization tool," he said. "It would be a cool thing to color a page a week for six weeks of Lent and mail them out as Easter gifts for family members."
Father Feist added that coloring the books can be an activity appropriate for any time, and an ideal way to spur individual or family meditation.
ChromaCat books are available at Amazon.com. A promotional video on the ChromaCat.faith site and Facebook page demonstrates the coloring technique, and suggests how to use and share the images. It also includes a gallery where buyers can upload photos of their pages, and see pages other people have colored. Additional books on Mary gardens and stained glass windows will be published later in the year.
Find the books at Amazon, or ChromaCat.faith.