Comboni Missionary becomes chaplain moderator for Hispanic community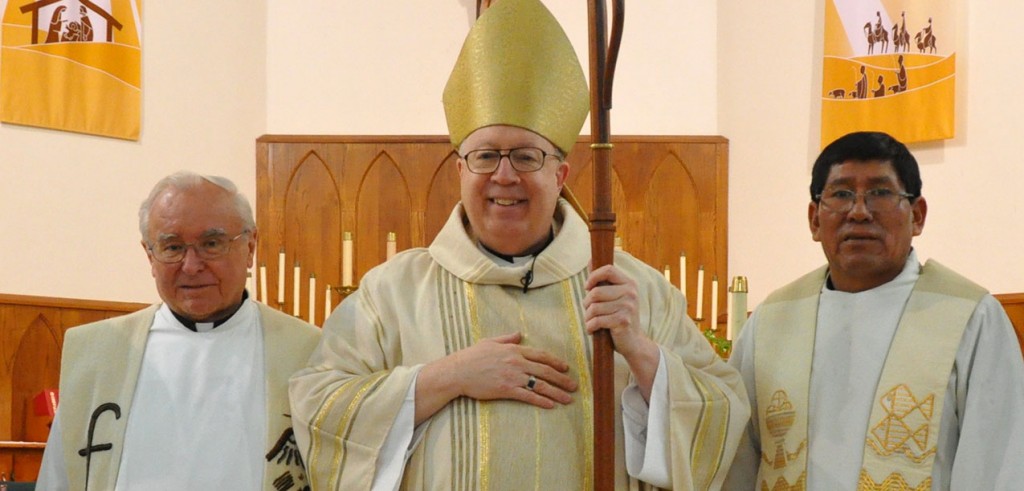 St. Charles Borromeo Catholic Hispanic community has a newly appointed chaplain moderator in the person of Father Rodolfo Coaquira Hilaje, a Peruvian Comboni Missionary.
He was ordained in 1992 in his home country and spent 15 years in pastoral ministry to the people of Zambia, Africa. He also did missionary work in his native Peru. While visiting the United States for mission appeals, he picked up on the vital need for ministry to Hispanic immigrants and requested to be assigned to the Comboni Missionaries' North American Province.
Upon his arrival in September of 2015, Father Coaquira took up residence at St. Charles and worked side by side with Father Louis Gasparini, the acting interim chaplain. Because of Father Gasparini's experience as Hispanic ministry director for the archdiocese for the past five years, he has had much to offer in the way of information and counsel.
"Before starting my ministry, it was important to observe what was already in place," said Father Coaquira, "to ask questions, and to listen to both those in charge and the people I am going to serve."
"I've known Fr. Rodolfo for many years," said Father Gasparini. "He is a man who lives the true spirit of mission. He and I dreamed together of the day when he would provide pastoral care for the flock of St. Charles, and now that dream is realized. I thank God for that."
Father Coaquira said his time in Africa helped to prepare him for his new assignment. His exposure to different cultures, to people who speak different languages and have different religious experiences helped him develop an attitude of openness. "It's not always easy," he said, "but what helps is an acceptance that the church does not belong to you; then the Holy Spirit takes the lead in your ministry."
In his dreams, Father Coaquira still sees the people in Zambia he had to leave, especially the orphans. They truly became his adopted family.
"But I was called to be a missionary, and as such, I am ready to serve wherever the church needs me. I pray that the Lord will show me how best to serve the people of San Carlos. To me, being on the move is a blessing, and it is even more of a blessing to serve people who are on the move, the immigrants."
Father Coaquira is keenly aware that the St. Charles Borromeo community is one of immense cultural and religious diversity. Its members are from many Latin American countries, each with its own cultural heritage. People from Ecuador, for example, don't understand the social and religious customs of people from Honduras or Mexico.
Although they speak the same language, Spanish, and share the same faith, he finds himself very much in a multicultural reality. Father Coaquira said that one major challenge he faces is to build a community where members not only share the same Table and listen to the same Word of God, but truly recognize themselves as brothers and sisters.
"When I meet people, I often hear, 'Father, we will support you; we will work together.' My hope and prayer is that the people will carry their good will and desire into action."
This story by Mary Bertolini first appeared in the February 2016 print edition of The Catholic Telegraph.