Companions of Saint Gerard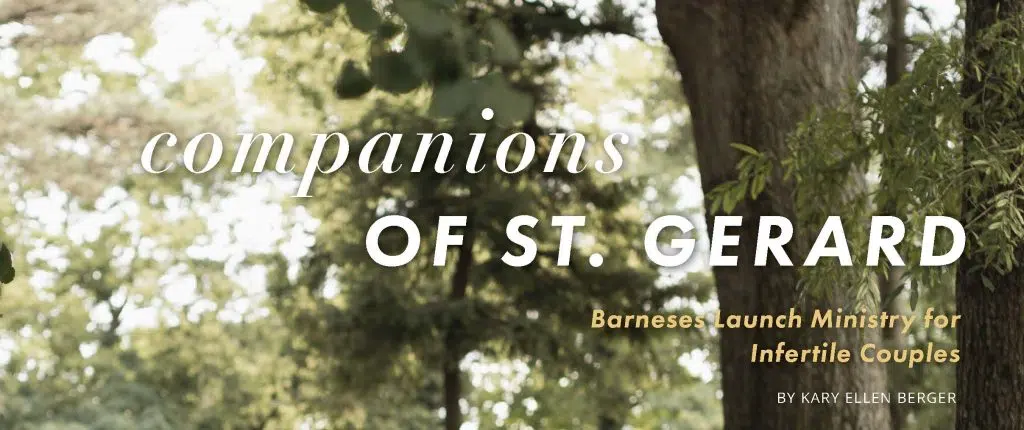 October 16 marks St. Gerard's feast day. The patron saint over many causes, he is especially called on to intercede for children (particularly the unborn), a safe childbirth, expectant mothers, motherhood and those experiencing infertility. Thus, when Bradley and Meghan Barnes founded a ministry to support infertile couples, they named it Companions of St. Gerard.
They established the organization at their church, Guardian Angels in Mount Washington, where Bradley is the youth minister.
"We announced [it's beginning] to our parish family and gave our testimony at every Mass in November 2021," the Barneses shared. "We wanted to get our story out prior to Advent—a difficult season because it draws so heavily on the idea of birth, and that can be tough for couples experiencing infertility."
The couple assists others out of their personal experience. On November 4, 2014, the Barneses learned they would most likely never bear children.
"No amount of preparation could have prepared us for the devastation that we felt in that moment and in the weeks to come," the Barneses reflected. "However, one blessing that the Lord had in store for us was a word He placed on Meghan's heart, 'This makes the work we're going to do with the youth of the parish much more important.'"
"There are a lot of painful things that can occur when this happens to you," the Barneses said. "Some loved ones bring you well-meaning but misguided comments or advice. You experience the fear that people will misunderstand why you don't have children (i.e., you don't like children or are using contraception). There can be an acute sense of loneliness, frustration, or sadness during certain times of the year, family events or even out of the blue. Through that pain, however, Jesus has shown us something beautiful: our marriage
is enough, and we are strong enough to carry this cross. He still has fruit to bring out of our relationship."
The Barneses hope their ministry shows other faith-filled couples that they are not alone. "Those who experience a season of infertility for any reason often struggle with the idea that their marriage might not bear new fruit or life," they said. "We certainly dealt with that lie in our own journey. However, the wonderful news of our faith is that, even for couples like us who will likely never conceive, God is extremely generous and brings abundant fruit and life if we are open."
Since early 2022, Companions of St. Gerard participants consistently attended Saturday Masses and a fellowship brunch afterwards. Meghan likes to say that our group is 'tiny but mighty,'" Bradley added. He and Meghan wish to grow the ministry and will continue seeking ways to reach others on a similar journey.
They also advocate for the Springs in the Desert ministry, which accompanies those experiencing infertility through live and pre-recorded retreats, materials for both men and women, opportunities to speak or chat online with others having a similar experience and links to additional resources.
"We [were] so impressed with them at last year's St. Gerard Morning of Reflection," they shared.
While they may not have a roadmap for their future, the Barneses know their faith and trust in God will guide them, no matter the path.
"Our hope is to find people who need a couple to accompany them on this journey and to build relationships," they said. "We would love to help other Families of Parishes discern how they might be called to minister to those carrying this cross."
This article appeared in the October 2022 edition of The Catholic Telegraph Magazine. For your complimentary subscription, click here.