Courage apostolate helps those dealing with same-sex attraction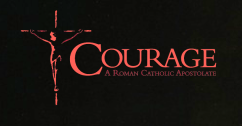 By Eileen Connelly, OSU
The Catholic Telegraph
Courage, an international apostolate of the Catholic Church that ministers to persons with same-sex attractions, now has a chapter in the Archdiocese of Cincinnati.
The ministry stems from the awareness of the late Terence Cardinal Cooke of New York that the church previously had little, if any, formal outreach to persons with same-sex desires, be it support groups or information. In response to this concern, he decided to form a spiritual support system that would assist men and women with same-sex attractions in living chaste lives in fellowship, truth and love.
Knowing of moral theologian Father John Harvey's extensive ministry experience in this field, he invited him to come to his archdiocese. With the help Father Benedict Groeschel and others, Father Harvey, who passed away in 2010, began the Courage apostolate with its first meeting in September 1980.
With the endorsement of the Holy See, Courage now has more than 100 Chapters and contact people world-wide, over 1,500 persons participating in its ListServs, and hundreds of persons per week receiving assistance from the main office and website. It has become a mainstream Catholic apostolate helping thousands of men and women find peace through pray, fellowship and the sacraments, according to the Courage website.
Andrew Sodergren, a psychologist currently ministering locally at Ruah Woods, first became acquainted with Courage while working with a Catholic counseling agency in Washington, D.C. He was impressed with how the ministry helped those struggling with same-sex attractions that "wanted to live chaste lives and be more fully integrated with Catholic faith and values."
When he moved to Cincinnati in 2011 and began his practice at Ruah Woods, he felt compelled to explore the possibility of establishing a chapter of Courage in the archdiocese. The result was a meeting in the spring of 2014 with Archbishop Dennis M. Schnurr and a presentation regarding history and goals of Courage. From that meeting, said Sodergren, the archbishop gave his blessing for Courage to form in the archdiocese and Father Kyle Schnippel was asked to serve as chaplain of the local chapter.
"I'm very grateful to Archbishop Schnurr for being willing to take this step," Sodergren said.
The group has been having regular meetings since August, said Father Schnippel, noting that participants must be invited by the chaplain to attend. Each meeting begins, he explained, with the reading of the five goals of Courage, which were created by members themselves and which they are called to practice in daily life. They are:
1. To live chaste lives in accordance with the Roman Catholic Church's teaching on homosexuality. (Chastity )
2. To dedicate our entire lives to Christ through service to others, spiritual reading, prayer, meditation, individual spiritual direction, frequent attendance at Mass, and the frequent reception of the sacraments of reconciliation and holy Eucharist. (Prayer and Dedication)
3. To foster a spirit of fellowship in which we may share with one another our thoughts and experiences, and so ensure that no one will have to face the problems of homosexuality alone. (Fellowship)
4. To be mindful of the truth that chaste friendships are not only possible but necessary in a chaste Christian life; and to encourage one another in forming and sustaining these friendships. (Support)
5. To live lives that may serve as good examples to others. (Good Example/Role Model)
"Society tells us to indulge in whatever whim or pleasure we might be tempted into," Father Schnippel noted. "The church  (through Courage) offers a position of holding up an ideal of life in Christ, of helping members of the Body of Christ live a life of fruitfulness in accordance with the teaching of the church.
"As a priest, it's been a unique privilege and honor to be part of this ministry," Father Schnippel said. "There is something that prevents each of us from growing closer to the Lord. We all operate out of some level of brokenness. We all have past wounds. The members of courage recognize this and particular way. The meetings help members to name their brokenness and bring that to the Lord for the strength to overcome it."
In October, Father Paul Check, current executive director of Courage, addressed the archdiocesan Presbyteral Council.
"Priests are our biggest advocates because of the one-on-one aspects of their ministry: they provide counseling, spiritual direction and, in particular, the sacrament of confession, during which some may admit to struggle," he said.
He recalled recent feedback from a Courage member who expressed his gratitude for the meetings and the mutual prayer for one another and support for living a life in Christ. The individual told Father Schnippel that, "It gives us a sense that we're not alone in what we face."
For more information about Courage, visit their website HERE.
This article originally appeared in the December 2014 print edition of The Catholic Telegraph.