Catholic schools take top spots in radio station choir contest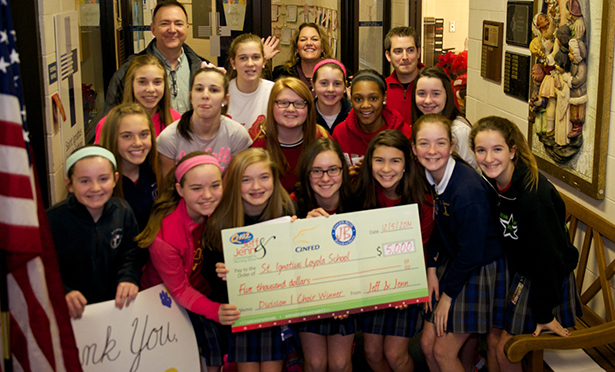 Staff Report
A pair of Catholic schools from the westside of Cincinnati took top spots in Division I of the Q102 Jeff and Jenn Christmas Choir Competition, the station announced on air Friday morning.
First place, determined by fan vote, went to a 15-member choir made up of 7th and 8th graders at St. Ignatius of Loyola. For the win St. Ignatius received a check for $5,000 which the school plans to reinvest in the music program. Third place in the contest went to St. James School of Whiteoak, which had a choir of all 64 first graders singing. St. James received a check for $1,000.
Listen to St. Ignatius choir singers HERE.
Listen to St. James' first grade singers HERE.
The St. Ignatius choir was made of members who participate in the school's praise band that performs at Mass. The choir submitted a recording of  "The Night of Silence" which was sung simultaneously with "Silent Night."
St. James' singers submitted their rendition of "I want to be an Elf."
The songs were on Q102's website for three days, along with submissions from seven other schools, giving listeners an opportunity to vote for their favorite song.
"We were thrilled and grateful", said St. I teacher Doug Donoghue, who directed the choir. "This is such a great program. Music is so important to developing the whole child, and this program gives middle school students a platform to share their talent."
Also on Friday, Jeff and Jenn presented a check for $5,000 to the choir group.
"It was our pleasure, " said Jenn Jordan at the check presentation.  Her on-air partner Jeff Thomas added, "It is part of the reason we like this time of year so much."
"It was the talent of this Praise Band combined with everyone that voted that enabled us to win this award," said Donoghue. "The St. I community has, once again, come together to support our music program. We are very grateful."
St. James first grade teacher Mickey Richter said Music teacher Jenny Bates coordinated the school's participation in the contest.
St. Mary School in Hyde Park was also a finalist in the competition.
The Division I portion of the competition was open to grades K through 8. Division II (finalists to be announced Dec. 8 ) will be for high schools.
Posted Dec. 5, 2014