Catholic Social Services of the Miami Valley Creating Partnerships to Serve
by Mike Lehner
Inspired by the call of the Gospel, Catholic Social Services of the Miami Valley (CSSMV) has served the poor, the hungry, the elderly and the disadvantaged for almost 100 years. From Montgomery County to the northernmost reach of the archdiocese in Auglaize County, CSSMV has emerged as a leader in charitable work, well-positioned to respond to crises, both large and small. The COVID-19 pandemic may have impacted the way it does that work, but it has not changed the mission to serve.
Case workers, counselors and other CSSMV staff are busier than ever, providing lifelines for clients by connecting through phone calls and video chat. Many of these individuals and families
were struggling before the pandemic and are now facing lost wages, mounting bills and closed daycares. Fears about getting sick and having enough food and supplies are real concerns.
FOOD PANTRY ADAPTS TO CIRCUMSTANCES
Located in northwest Dayton near the center of the city's food desert, the CSSMV Food Pantry has seen a 30-percent spike in daily requests. To adhere to social distancing guidelines, CSSMV has moved from the choice food pantry model, where clients shop the pantry and pick their own groceries, to handing out pre-packed boxes of food.
Volunteers and Ohio National Guard members arrive early to unload trucks from the Dayton food bank and other suppliers and pack the boxes with a healthy assortment of foods. Notably absent are the usual group of retired folks who regularly volunteer at the pantry. Because of health concerns, volunteers are currently limited to those under the age of 50, and staff members from all parts of the agency are stepping up to fill the void.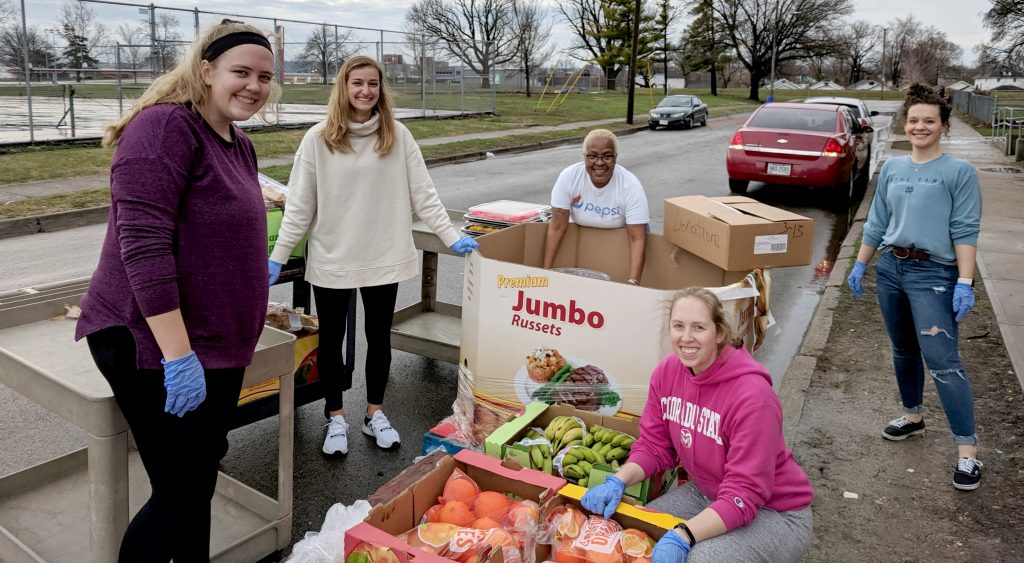 DAYTON STRONG
What is not absent is the generosity of a community that became known as "Dayton Strong" after a tumultuous year marked by devastating tornadoes and a mass shooting. At CSSMV, it could be called "Dayton Catholic Strong" as gifts from local parishes have helped stock the pantry shelves to overflowing.
A group of young alumni and students from Chaminade Julienne High School have been a big part of the volunteer effort in the pantry, and the University of Dayton donated bread and chips left over after canceling the NCAA Tournament's First Four events in early March. Another Catholic parishioner sewed face masks for the pantry staff and volunteers.
With the usual suppliers of bread for the pantry cutting back on bakery production, Big Sky Bread Company owners and St. Albert the Great parishioners, Mari and Philip Gallenstein, have ramped up production to provide 100 loaves of bread daily. Upon hearing about that effort, an anonymous donor stepped up to pay for the bread for the pantry throughout the rest of April, a generous move that helped keep Big Sky Bread Company in production as well.
SHARING SUPPLIES AND STRATEGIES
Another local company, Pepperidge Farm, has donated truckloads of its popular Goldfish Crackers. "I have never seen so many Goldfish crackers in my life," said Mike Lehner, CSSMV marketing and development director. "Luckily, we have been partnering with other agencies to help each other and balance inventories. The House of Bread [community soup kitchen] gave us potatoes, and in exchange, we gave them chips and Goldfish crackers."
Sharing supplies and strategies has made partnerships essential during the pandemic, but working with others is something CSSMV has been doing well for many years. Its Refugee Resettlement Program depends on partnerships with local employers, schools and volunteer groups. Pre-birth counseling through Mothers Empowered evolved from a partnership with Premier Health.
Partnering with a task force of stakeholders throughout the region positioned CSSMV to create a long-term case management program for tornado relief.
"As community needs continue to increase and change, our services reflect our sincere commitment to be responsive, no matter what the challenge," said CSSMV CEO Laura Roesch.
"Contributing to the greater good requires confidence as well as humility, boldness as well as patience, expertise as well as a culture of learning, and, always, the grace of God. One of the great blessings of Catholic Social Services is the timeliness of our mission."