The Role of Family in God's Designs From "House Churches" to the "Domestic Church"
by Father Robert J. Hater
The old black rosary hangs on the headboard of the bedroom once occupied by my father and mother. More than 60 years ago my father brought it home, a gift from a Marianist brother who gave it to him for Christmas. It's been there ever since. In good and difficult times, my parents prayed that rosary. It became a symbol of our family's faith. It remains so today, as I reflect on the domestic church.
New Perspectives
When my parents used this rosary, they never heard our family referred to as a domestic church. For their generation, "church" was the building called St. William's Parish. Catholics, living then, never imagined the changing family perspectives begun at Vatican II. In the document, Lumen Gentium, the Council Fathers focused on the Church as the "People of God" not the Church as institution or the building we call our church.
This emphasis on the "People of God" set the stage for an Italian bishop, Pietro Fiordelli, to describe the Christian family as a domestic church, or the church of the home. This, in turn, led
Pope Saint Paul VI and subsequent popes to reaffirm that the family, indeed, is a domestic church.
Many Christians, to this day, miss the implications of this shift from Institution to People of God to Domestic Church, until they consider the special role of the family in God's designs. This role begins in marriage. In this sacrament, God gives a Christian couple the graces necessary to fulfill their mission of mutual love and caring for their children. They are to cooperate
with these graces and establish a climate in the home where the Christian faith grows and flourishes.
This sacramental nature of the family involves commitment and hard work. It should center on Jesus, but increasingly the Christian nature of family life is put aside in favor of secularism, prosperity and athletic endeavors instead of Mass on Sundays and daily prayer in the home.
But just as materialism seems to have gained ascendancy in our society, the coronavirus comes along and society pauses. The present crisis invites us to delve deeply into our faith history to
learn important life lessons for today.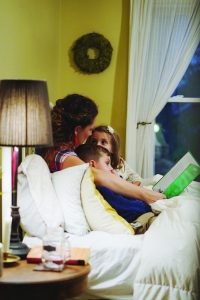 Learn from Scripture
In the First and Second Centuries, there were no church buildings as we have today. Early Christians met in people's homes, called "house churches," for prayer and the Eucharist. Roman persecution forced them to sequester there.
The coronavirus is causing something similar. Since we cannot worship in our parish churches, we need to focus on our domestic churches. There, we are to pray, learn and practice Christian
living, even when we are tired or irritate one another. As we do so, we turn to scripture for wisdom.
The Acts of the Apostles reveals an important characteristic of early house churches even during persecution and fear of death. They accepted their role as missionary disciples, called to share the message of Jesus' love, culminating in his death and resurrection.
During these anxious times, we can focus on Jesus' missionary message with our families – spouses, children, inlaws, and those living alone. Parents are challenged to educate their children in
the faith. In so doing, new missionaries will emerge from our domestic churches to give witness to Jesus' injunction to "teach all nations."
As we endure the trials of today, we wonder about the future and ask, "What is life all about?" To address this question, we turn to our faith, recommit ourselves to it and remember that we can achieve life's purpose only with God's grace.
Faith and Forgiveness
The present environment of fear and uncertainty is not the time to feel guilty for past failures, but to renew our hope in what is authentically Christian. We are people of hope – kind, patient and forgiving.
This is the time to forgive. If we are not reconciled with someone, let us ask ourselves, "With all the pain that people suffer globally, is it not time for us to forgive and seek reconciliation?" Let us forgive, especially family members, as we join our present sufferings with Christ's for the salvation of the world.
New Hope
The old rosary hanging on my parent's bed was missing a cross when my dad got it. The cross that belongs there is not made of wood or iron, but of the difficulties that my family experienced and the whole world now suffers. As we look beyond the cross that we now bear, let us bask in the glorious light promised by the Resurrection.
Father Robert Hater, a Cincinnati diocesan priest, is a Professor Emeritus at the University of Dayton. An internationally-known lecturer and writer, he has written more than 35 books.