Cross-Generational Friendship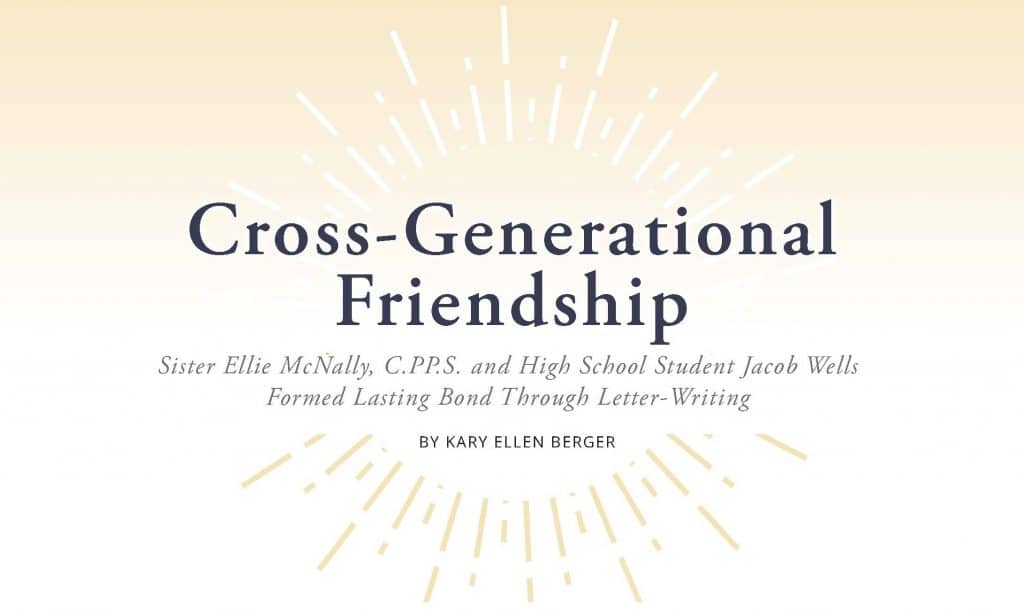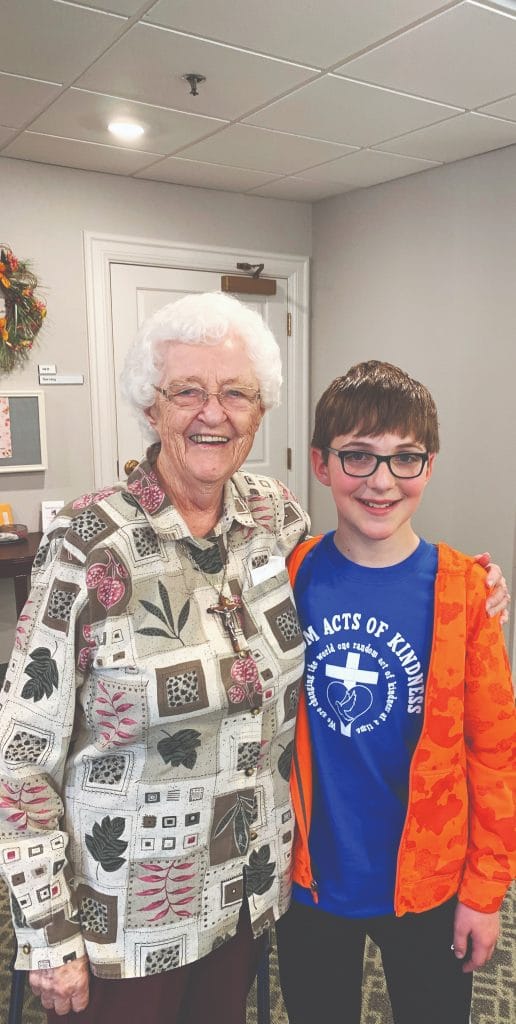 Most high school students are focused on schooling and outside activities like sports, clubs, work and various interests. For a Bishop Fenwick High School student and St. Maximillian Kolbe parishioner, one particular interest is a priority – connecting with his pen pal.
Jacob Wells' pen pal isn't in a different state or country. Rather, she is Sister Eleanor McNally, C.PP.S. (affectionately known as Sister Ellie) of the Sisters of the Precious Blood and 103 years young.
Their friendship began in 2019 through Wells attending Mother Teresa Catholic Elementary School in Liberty Township. The Random Acts of Kindness Club, to which he belonged, created Easter baskets for the Sisters.
"During the delivery, we played Bingo and got to know each other," said Wells. "She asked me what I wanted to do when I grew up. I answered that I had an interest in journalism. You see, she was an English teacher at the high school and college level. She asked for my address and she wrote me a beautiful letter that uplifted me. I responded and we eventually became pen pals."
As a child, Sister McNally lived in California, and her family moved to Arizona when she was about 10 years old. She met the Precious Blood Sisters there, in her elementary school.
"Hard to believe, but I went to the convent in Dayton straight out of the eighth grade in 1933, which means I have been in the community for 88 years," said Sister McNally.
Sister McNally's career and vocation combined with Wells' passion for writing to spark a unique connection between them.
"I never would have guessed that God would bless me with something as little as an Easter basket delivery and turn it into a life-changing friendship," shared Wells. "You would not believe how much your spirit would be uplifted if you even read a sentence of her letters. Also, replying to her letters really just helped me to reflect on my life and I was able to express recent events, feelings, thoughts, etc."
"It fills my soul to have this friendship with Sister McNally," continued Wells. "She is one of the few people in my life who I feel comfortable sharing my spiritual journey, questions and experiences. She is interested in my daily life and asks me about my schools, sports, friends, Boy Scouts, family and everyday life. She really cares about me and I am so grateful that God brought us together."
"I feel very humble and grateful that a young person like Jacob finds me a person with whom he can feel comfortable as we share our own spiritual lives," said Sister McNally. "Corresponding with Jacob has given me a lift knowing that God is still alive and working in our youth and I am privileged to experience that through Jacob. Most importantly, I have seen God's love shine through Jacob and that touches me deeply."
Sister McNally and Wells correspond through traditional letters, emails and visits and he recently visited for her December birthday, bringing Christmas gifts for her and the other Sisters.
He doesn't know where his life's path will take him, Wells said, but his connection with Sister McNally had a significant impact and he's a better person for having her in his life.
This article appeared in the February 2022 edition of The Catholic Telegraph Magazine. For your complimentary subscription, click here.