Dayton couple recognized for pro-life ministry
April 3, 2012
By Patricia McGeever
DAYTON —  A Catholic couple who have made pro-life causes their life's work have been recognized with a prestigious award for their efforts.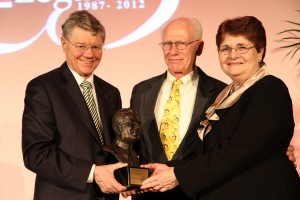 Steve and Vivian Koob, members of Corpus Christi Parish in Dayton, received the Cardinal John J. O'Connor Pro-Life Award Feb. 2 in Naples, Fla. The award is handed out by the Legatus Society, an international group of lay business leaders founded by Dominos Pizza chairman and founder of Ave Maria University, Tom Monaghan. Past recipients include former President George W. Bush, Cardinal Francis George, Archbishop of Chicago, and former Pennsylvania senator Rick Santorum. Also honored this year were Cardinal Raymond Burke, prefect of the Supreme Tribunal of Apostolic Signatura, and Dan Zeidler, president of the Family Life Council and the U.S. representative for the Latin American Alliance for the Family.
The Koobs started their crusade against abortion nearly 30 years ago when they began working as sidewalk educators outside of an abortion facility in Dayton. Sidewalk educators approach women entering abortion clinics and try to get them to consider other options. But, the Koobs also have a more personal story to tell about choosing life. When they married 28 years ago they brought five biological and two adopted children into the newly blended family. They adopted three African-American children with special needs before having four more biological children. Vivian Koob was hospitalized for three months while pregnant with their last child, a boy they named Joseph.
"He's the one they wanted us to abort," she said of her doctors' advice. That was not an option for the couple and Joseph "died shortly after birth" from multiple birth defects.
To carry on their pro-life mission, the couple started a Respect Life Committee at their parish and encouraged other members to help them start a pregnancy center. In 1989, they opened up Elizabeth's New Life Center with help from fellow parishioners and a $1,500 grant from the Archdiocese of Cincinnati. There are now six locations throughout southwestern Ohio making Elizabeth's New Life Center one of the largest pregnancy resource centers in the nation.
The nonprofit has grown to include other services, too. It offers pre-natal care, mentoring programs and parenting classes. There are classes on marriage and building healthy relationships, youth development programs and abstinence education. There are also boutiques that offer maternity clothes, baby clothes and baby furniture.
The couple never imagined their project would grow into such an operation. "Heavens no!"  said Vivian Koob. "Had we even thought about that, we wouldn't have had the courage to do it."
After co-founding Elizabeth's New Life Center and serving on its board, Steve Koob started another nonprofit, One More Soul. It distributes material on the Catholic values of children, contraception and natural family planning. "We're kind of spinning our wheels just working on stopping abortion. We've got to stop contraception," he said. "It's kind of like if your car is sitting out in the parking lot because the engine doesn't work, polishing it and changing the tires doesn't make any difference."
The Koobs took a break from their work to travel to Florida to collect their award at a ceremony and banquet. They haven't decided where they'll keep the award. They joke it will have to split its time between the two ministries.