Denver's Archbishop Aquila restores sacraments to original order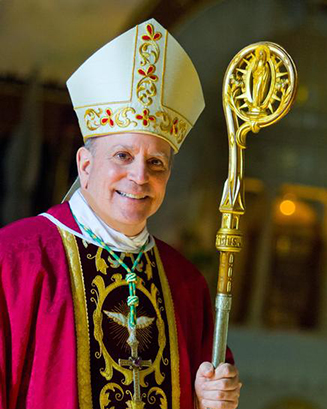 CNA/EWTN News
In an unprecedented change for an archdiocese, Archbishop Samuel J. Aquila of Denver announced that the Sacraments of Initiation – Baptism, Confirmation and First Communion – will be restored to their original order.
"In an increasingly secular world, the reality is this: the souls of our children are the battleground. As the shepherd of the Archdiocese of Denver, I must do everything I can to help those who form children win that battle," he explained in his pastoral letter "Saints Among Us" released May 23.
"The world needs saints. Even as our society becomes more distant from faith and more forgetful of God, it still hungers for joyful witnesses who have been transformed by Christ," he explained. "At the same time, new generations of Catholics need grace to sustain them in a non-Christian environment."
In response to those needs, Archbishop Aquila said he's chosen to restore the sacraments to the original order.
While the majority of dioceses and archdioceses have children baptized in infancy, receive the First Communion in first or second grade and Confirmation sometime in middle or high school, the original order placed Confirmation and First Communion in the same ceremony.
"This will make available every sacramental grace the Church has to offer to children who have reached the age of reason," he explained.
When he made the change in his then-Diocese of Fargo in 2002, he said he was convinced by the "theological and pastoral reasons" that it was the right decision, but the feedback from parents after it was implemented further confirmed the change.
In his pastoral letter, Archbishop Aquila detailed a five year plan that will help parishes in Northern Colorado implement the changes by 2020.
It is his hope that after the change, Confirmation will no longer be the "sacrament of farewell" and Pope Francis regretfully called it, but rather "a profound encounter with each person of the Holy Trinity."
As a result of the change, youth groups will need to adapt from sacramental preparation to "building community, fostering deeper relationships with each person of the Holy Trinity, and preparing them to be witnesses to the poor, those in need, and those who do not know Jesus Christ."
This model, which is based on Jesus' preparation of the Twelve Apostles, is already present in many parishes of the Archdiocese and is "bearing great fruits."
Posted May 26, 2015