DePaul Cristo Rey Celebrates 100% College Acceptance for third year in a row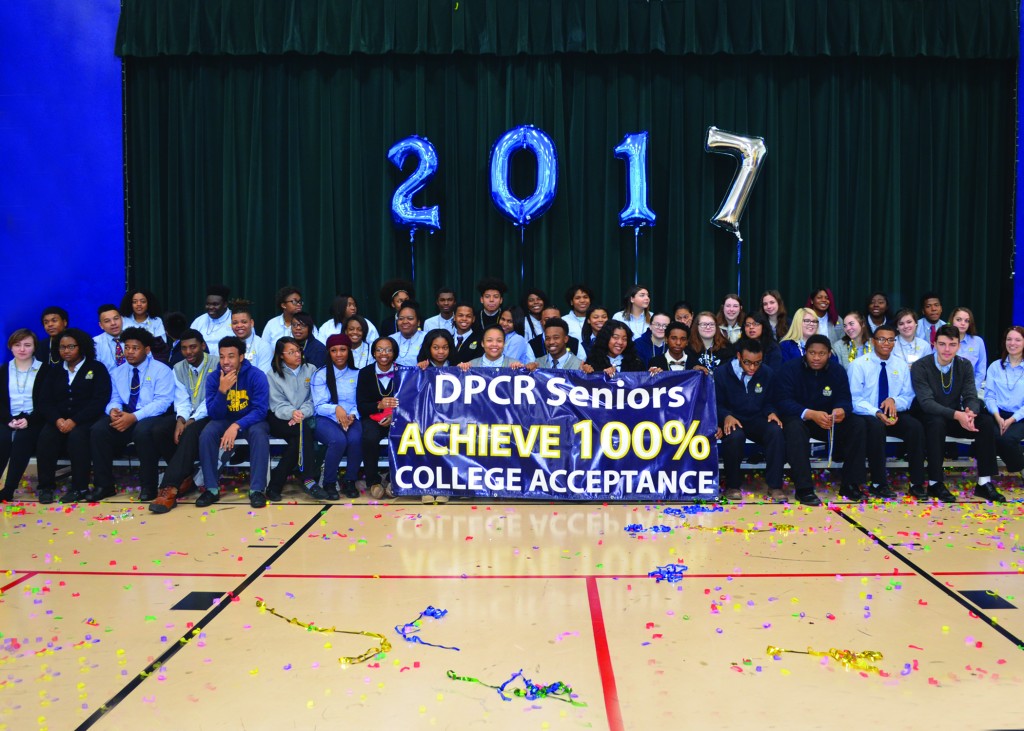 For the third year in a row DePaul Cristo Rey High School's senior class has achieved 100 percent college acceptance. Every member of the Class of 2017 has been accepted to at least one college, most have been accepted to multiple schools, and these seniors have already earned $3.8 million in merit-based academic scholarships. And the acceptance letters and scholarship awards continue to arrive in seniors' mailboxes.
The announcement of 100 percent acceptance was made in a pep-rally style celebration on January 17 that included confetti cannons, standing ovations and words of wisdom from English teacher Dr. Manuel Iris who told the seniors, "Life will change in ways that you cannot imagine and will not always be good. Your future is full of difficulties and challenges that I believe in my heart you will overcome. You will be challenged and afraid and sometimes will be defeated, but then you will come back on your feet and continue with resilience, intelligence and heart."
There are 59 seniors in the Class of 2017, DPCR's largest graduating class so far since its opening in 2011. The seniors will graduate on May 30 in a ceremony at Mount St. Joseph University.
DePaul Cristo Rey, sponsored by the Sisters of Charity of Cincinnati, offers a nationally recognized, dual-focus education model to students whose families can't afford other private, college preparatory programs. This education model, not available at any other local high school, partners challenging college preparatory academics with a Corporate Work Study Program (CWSP). It is one of 32 Catholic high schools in the nationwide Cristo Rey Network® which serves 10,900 young people.