DePaul Cristo Rey: Coach Cornelius Leads Basketball with Faith and Heart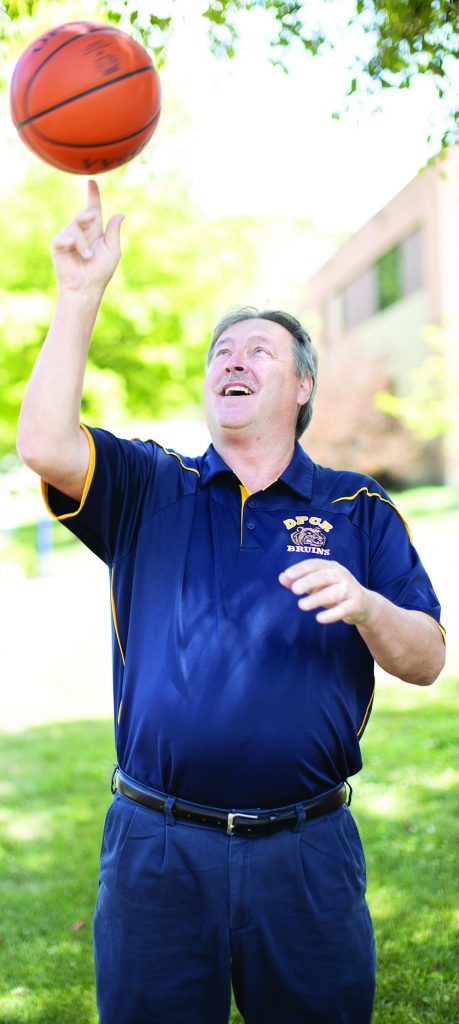 by M.D. Pitman
DePaul Cristo Rey has stood out over the past four years as one of the Tri-State's best-kept basketball secrets. A perennial Final Four participant in the Ohio Christian Schools Athletic Association (OCSAA) post-season tournament, the school of around 300 students from 38 tri-state zip codes, won the OCSAA title after twice being a third-place finisher and once being the tournament's runner up.
"It was the best thing for the kids," said head coach Randy Cornelius, who finished his seventh year with the Bruins – the last four leading the program – with a state title.
The final two minutes of the title game against Circleville's New Hope Christian was arguably the best in his coaching career. After a close game, the DePaul Cristo Rey's senior, Montez Johnson, hit a three-pointer with 30 seconds left, giving the team a one-point lead. After a couple back and forth stops, junior Martin Igaba sunk the two biggest free throws of the game to put the Bruins up 50-47 with seconds left.
"After that, the celebration began," Cornelius said. Cornelius said they were lucky to get the title game in as the following week the Ohio High School Athletic Conference postponed its winter post-season tournament, which was eventually canceled due to COVID-19. And for 2020, DePaul Cristo Rey is the only state high school basketball champion, as the OCSAA is only one division.
The Bruins' success in the years leading up to the 2020 title is, in part, because of the basketball strategy and game planning by Coach Cornelius and his assistant coaches, Jeff Birkofer and Casey Troutman. Only two of his 14 players are over sixfeet- tall, but all played significant time on the court. During the season, most games saw 12 to 13 players get into the game before half-time, when most teams only played six or seven.
"We're not the tallest, but we're the toughest," Coach Cornelius said.
While skill and strategy have been staples for the Bruins, so is their faith. The Catholic high school in Clifton was founded in 2011 by the Sisters of Charity. Prayer is a consistent presence in the program, before games and before or after practices.
The team follows a "next man up" mantra, a sports philosophy that anyone on the team can and will be called upon to help the team succeed.
Next year, Coach Cornelius said the team will lose five seniors to graduation. However, with the depth DePaul Cristo Rey has developed leading into the 2020-21 season, the coach said the team's mantra is "next season up."