DEPAUL CRISTO REY RECOGNIZES TWO SISTERS OF CHARITY WITH FOUNDERS LEADERSHIP AWARD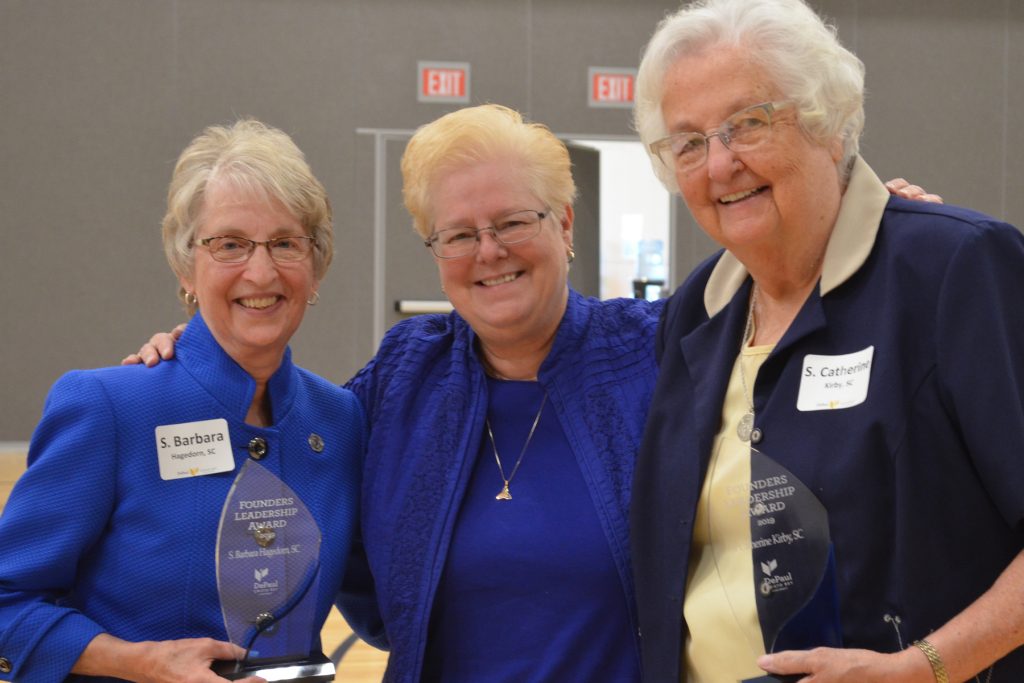 Two Sisters of Charity instrumental in the founding of DePaul Cristo Rey High School have been recognized with the school's Founders Leadership Award. Sister Barbara Hagedorn, SC, and Sister Catherine Kirby, SC, were honored during DPCR's annual Founders Day Mass on September 27.
The Founders Leadership Award honors a person or persons specially connected to DePaul Cristo Rey whose leadership demonstrates the inspiring qualities of St. Vincent de Paul, the school's namesake, and the school's founders, the Sisters of Charity of Cincinnati. Those qualities are service, charity and a passion for the mission.
S. Barbara was president of the Sisters of Charity when the congregation took the leap to open and sponsor a brand new high school. Her earlier career included work as an educator in Ohio and as a health care administrator in Colorado Springs. "The 'professional activity' that has meant the most to me has been my involvement in opening DePaul Cristo Rey High School," she says. "The journey of being involved from concept to reality has been remarkable. Many people helped make this dream come true and I am so proud to be a part of this mission."
S. Catherine led the feasibility study which gained initial local support for the school and earned approval from the Cristo Rey Network for DPCR to open. She oversaw the task force work of more than 60 volunteers who researched, explored, discussed and planned the school. This work flowed from her life-long ministry in education, serving as a teacher, principal, professor and assistant superintendent for the Archdiocese of Cincinnati, responsible for 22 high schools. She is now retired.
After DPCR opened in 2011, both women served six years on the Board of Directors.
---
DePaul Cristo Rey, sponsored by the Sisters of Charity of Cincinnati, offers a nationally recognized, dual-focus education model to students whose families need significant financial assistance to afford a private, college preparatory program. This education model, not available at any other local high school, partners challenging college preparatory academics with a Corporate Work Study Program (CWSP). It is one of 37 Catholic high schools in the nationwide Cristo Rey Network® which serves 13,000 young people.