Despite reports, return of Somali refugees limited, bishop says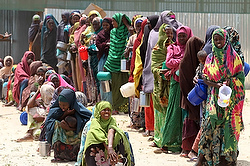 By Francis Njuguna Catholic News Service
NAIROBI, Kenya — While many Somali refugees wish to return home, just a small number have been able to do so because of ongoing violence in parts of their homeland, said Bishop Giorgio Bertin of Djibouti, apostolic administrator of Somalia's only Catholic diocese, Mogadishu.
Despite media reports that refugees are returning home, Bishop Bertin wrote in an email to Catholic News Service Jan. 28 that fears of violence and insecurity in southern Somalia are preventing people from making the long trek to their homeland.
"It is true there is an initial return of Somali refugees from Kenya to Somalia. But it is a very small number," Bishop Bertin told CNS.
"This is due to the fact that many of the Somali refugees in Kenya are from southern Somalia, which is still quite unsafe because most of the rural areas are out of the control of the government forces and of AMISOM," the African Union Mission in Somalia, he explained.
Kenya hosts one of the largest Somali refugee camps in the region.
Kenyan authorities have threatened to send some Somali refugees out of the country because they have been linked to al-Shabaab militants that control sections of Somalia. However, the Africa Union, the United Nations and the international community have resisted this move, saying it's against the U.N. convention governing refugees to forcefully return people to their homelands in the face of violence and insecurity.
Bishop Bertin told the CNS that the Catholic Church with some of its partners has undertaken programs aimed at assisting the "homecoming" of refugees.
"We have just started (with our local partner) … a small project in Lower Juba for the resettlement of refugees/returnees from Kenya: It is an agricultural project that aims at helping the returnees to restart an agricultural activity," he wrote.
A shake-up in the government in December in Mogadishu, the Somali capital, also has been a setback, delaying efforts by the Catholic Church to renew its presence in the country, the bishop said.
"For the moment, we will continue our presence through our humanitarian support to local partners," Bishop Bertin said. "We have to see if the new government is capable of 'governing,' of giving services, of respecting human rights, including the religious rights, of honestly being at the service of the people of Somalia in rebuilding confidence and reconciliation. The way is still long! But we must persevere with our patience and commitment," he said.