Discovering mercy right where we live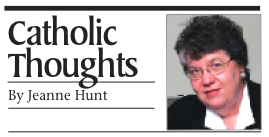 Brian and Stacy and their three children went on a life-changing vacation on the Carolina shore last summer. One morning, an incident occurred that Brian still cannot shake. As he was walking the pier as the sun rose, he noticed a swimmer struggling in a riptide far from shore. In a panic, he ran to a man who was fishing off the pier. He pointed to the swimmer and said, "Look! That man's in trouble!" The response of that fisherman is still riveted in his head, "Don't look. We might have to do something."
Brian's story has stayed with me as well. We live in a world in which so many people make a conscious choice not to get involved. We're too often self-absorbed, keeping away from those who need our help. Sometimes, we don't even see the needs of the poor and suffering. We're encouraged to mind our own business, not get involved, stay focused on our own lives and hope others do the same. Brian and Stacy talked about the pier incident all the way home from vacation and decided to "look."
Pope Francis has noticed the disparity between that secular mantra of everyone for him- or herself and the gospel. It's for that reason that he has called for a Holy Year of Mercy. A holy year is created whenever there's an extraordinary need. Pope John Paul II called for a holy year in 2000 as the new millennium began. Pope Francis sees the hardhearted, lack of mercy in the world and is calling us all to task. He's blowing the whistle on selfishness and asking every one of us to have a change of heart beginning on December 8 and continuing through November 20, 2016 – and beyond.
Brian told me, "We can say, 'Ho hum, just another church program' or we can take Pope Francis seriously and respond to the urgency of his message: 'Merciful Like the Father.' Stacy and I decided to get our family involved and proactive, and we haven't regretted it." This family goes on what Brian calls "Mercy Raids" each month. On a December Saturday, the family will begin the day at the local nursing home visiting 93-year-old John who has no regular visitors. Then, on to the toy store. Each child will buy a gift he or she wants for Christmas. They will wrap the gifts and take them to a parish family who cannot buy gifts this Christmas. Then, home again to make cookies for all the folks who will work this Christmas Day: hospital workers, police, and Brian's coworkers at the fire station.
We're at a fork in the road: we can keep living our same self-centered lives or we can choose to change. Making this change will require mindfulness about others. We'll have to start walking in others' shoes. Empathy and compassion are the roots of mercy. God isn't asking us to leave our circle of family, friends, parish, or community to find the road of mercy. What is required is that we look around at those who cross our paths and listen when a request is made for help. In other words, perform the acts of mercy that are right in front of us. Like Brian and Stacy's family and their Mercy Raids, we'll discover mercy—and many needs for mercy – right where we live.
We shouldn't look at this mercy initiative as another program or project. It's meant to be a change in the way we live. We can't close our eyes like the fisherman on the pier. We need to see what God sees and take care of one another. We need to stop making excuses for not getting involved. We need to walk across the street, ring our sick neighbor's doorbell, and visit for a while. We need to take a Christmas basket of treats to that large family in the parish who has a limited income. We need to take new socks, underwear, and shoes to the homeless shelter. We need to attend funerals and follow up six months later. We need to spend time with those in nursing homes and those who are housebound. We need to pray for the discouraged and instruct the ignorant. We need to stop ignoring the cry for help and do something, maybe our own Mercy Raid. God will be so pleased.
Hunt is a nationally recognized author and catechetical leader.
This Catholic Thoughts column byJeanne Hunt first appeared in the December 2015  print edition of The Catholic Telegraph.