Franciscan Friars discontinue mall ministry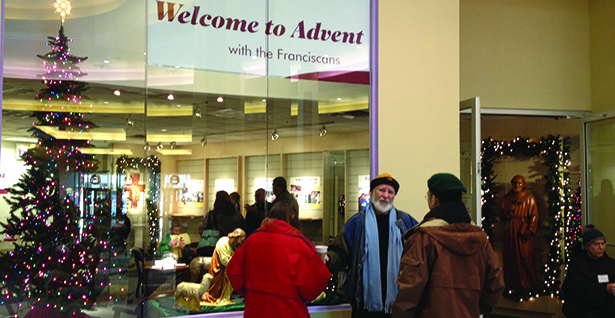 A ministry some called an experiment in new evangelization has ended after a successful two-year run.
For the past two years the Cincinnati-Based Franciscan Friars of the St. John the Baptist Province staffed a storefront in Cincinnati's Northgate Mall from Black Friday through Christmas Eve, selling nothing and providing a peaceful place among a hectic consumer shopping season. The ministry will not continue this year, primarily as a result of decreased availability on the part of the friars.
"It was a great experience for the Friars and they had some very meaningful and often inspiring conversations with the people who came by to see them," said Toni Cashnell, communications director for the Friars. "In the end, its largely and issue of manpower. It is a huge amount of work for a few people to do."
One of the reasons for reduced manpower this season will be various meetings on the future of the Order of Franciscans Minor in the United States. Presently, there are seven provinces of Franciscans nationwide but the order is in a restructuring process that will reduce that number.
"As it happens, a lot of the meetings and discussions scheduled for this are this fall and early winter," Cashnelli added.
Finally, while the primary issue in determining not to return for a third year was staff availability — it takes a minimum of 35 Friars committed to the ministry to run — the idea was to reach new audiences who may not know of the Friars or the church. Last year, that wasn't always the case.
"One of the goals was to introduce the Friars to new audiences," Cashnelli said. "Their experience was that the vast majority of people stopping by already knew the Friars and already knew what the Catholic Church was all about. That's great, and they enjoyed that, but it wasn't the visibility expansion they were hoping for."
This story first appeared in the December 2015 print edition of The Catholic Telegraph.