Diving In Aqua Bombers Carry Faith into the pool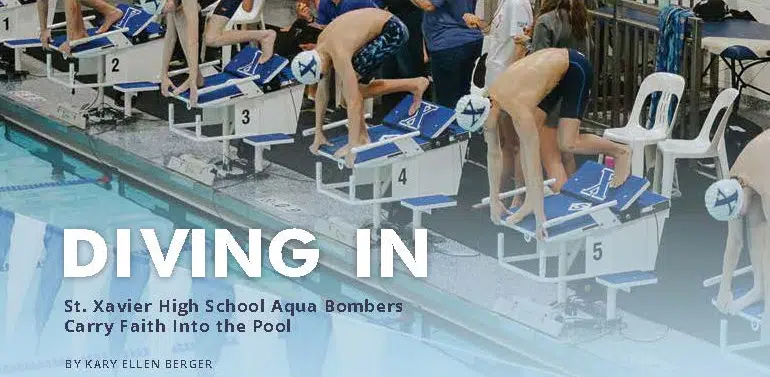 The historic St. Xavier High School swimming and diving team received has multiple accolades— including, most recently, placing second place at the state competition in March. Additionally, senior Gavin Hang and head swimming and diving coach, Dave Albert, were named Cincinnati/NKY Winter Sports All-Stars.
But it's more than just the fastest times or best scores for the student athletes and coaches who are part of the teams. It's what is said and showcased outside of the pool that makes the program special.
"The coaches and swimmers truly care for each other and about creating that community," said Dave Fogler, a senior swimmer.
It's more than just getting up early or staying late after school for swimming and diving practice. It's praying together, cheering each other on, and serving the greater Cincinnati area next to one another, while also being a team.
Albert, a St. Xavier alumni, Albert is beginning his second year as the head coach for the "Aqua Bombers," the team's nickname. He said he was drawn to the team's overall mission, of the "Aqua Bombers," the team's nickname, which led him to return as an assistant coach shortly after graduating high school.
"The team is focused on our community, being the best version of themselves, building each other up, having no regrets, knowing what you needed to do for the team, and that sense that we're here for something far greater than swimming and diving. But, at the same time, that's also why we're here," said Albert.
Ben Trujillo, a senior swimmer, shared the same sentiment. "Whenever I leave a chapel visit, I feel like I am more inspired than I was before. It's that aspect of faith that helps me swim my best and enjoy my time on the swim team the most."
The Aqua Bombers' team chaplain is former head swimming and diving coach, Jim Brower. Albert noted that Brower gives, "messages that can be inspirational and motivational, and/or to positively challenge our athletes to be the best they can be."
"The primary purpose of the team chaplain and the chaplaincy program is to help guide and build spiritual support and community within the team; to help keep the bigger picture in mind so that we find God in all things, especially one another," said Albert.
Hang, who is committed to dive for the University of Kentucky next year, added that his faith and prayer are essential to his mindset in and out of the water. "I have found prayer to be super helpful," he said. "There is a lot more time waiting than going. Before and during meets there is a lot of time for someone to overthink. I feel prayer is a great way to channel my energy and help center myself. I feel like I have someone else on my side, like God is with me."
Both Fogler and Trujillo agree with the same faith-filled mindset.
"One aspect I can take away from the team the most is faith as a motivator," said Trujillo. "Even when there are times where I'm not motivated to practice, I always am able to make it through."
Fogler agreed. "One thing I'll take away from my time at St. Xavier and the swim team is keeping that sense of community as a source of strength and comfort. There are times when I have had trials with my faith, but being with the team and that sense of community has helped me see where God is, even in that struggle."
This article appeared in the September 2022 edition of The Catholic Telegraph Magazine. For your complimentary subscription, click here.