Dominican sister chosen to lead Catholic Charities USA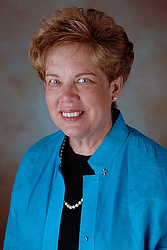 Catholic News Service
ALEXANDRIA, Va. — Dominican Sister Donna Markham has been chosen to succeed Father Larry Snyder as the new president of Catholic Charities USA.
The announcement was made Jan. 12 at Catholic Charities headquarters in Alexandria, a suburb of Washington.
Sister Donna becomes the first woman to lead Catholic Charities, which was founded in 1910. She will officially take over from Father Snyder June 1.
Currently president of the Behavioral Health Institute for Mercy Health, Sister Donna, a board-certified clinical psychologist, has a doctorate in clinical psychology from the University of Detroit and was named a fellow in the American Association of Clinical Psychologists. Last year, she was awarded the prestigious Harold S. Bernard Training Award from the American Group Psychotherapy Association in February 2014.
"There can be no greater call than to serve and advocate on behalf of persons who struggle to get by in a world where they are all too frequently relegated to the margins of society and where they long for dignity, hope and compassion," said Sister Donna in a statement, adding she was "honored and humbled" by her selection. "I feel blessed to walk among the many dedicated Catholic Charities workers across the country who daily make the Gospel come alive through their care for their sisters and brothers in need."
With Mercy Health, Sister Donna is engaged working on changing how behavioral health care services are delivered across seven geographic regions. Beforehand, she served for 10 years as the president of the Southdown Institute in Ontario, and as prioress of the Adrian Dominican congregation in Michigan. She also served for eight years as a member of Catholic Charities' board of trustees, two of those as board chair.
Catholic Charities USA is the national office for Catholic Charities agencies nationwide, which help a combined 9 million-plus people a year regardless of religious, social or economic backgrounds.
Father Snyder will returning to his home Archdiocese of St. Paul and Minneapolis to do ministry there.
Catholic Charities of Southwestern Ohio, which serves  the Archdiocese of Cincinnati, is a long-time member of Catholic Charities USA. CCUSA  is an organization consisting of Catholic Charities agencies from dioceses throughout the United States.
Posted Jan. 12, 2015