Dominicans share bonds of brotherhood on new album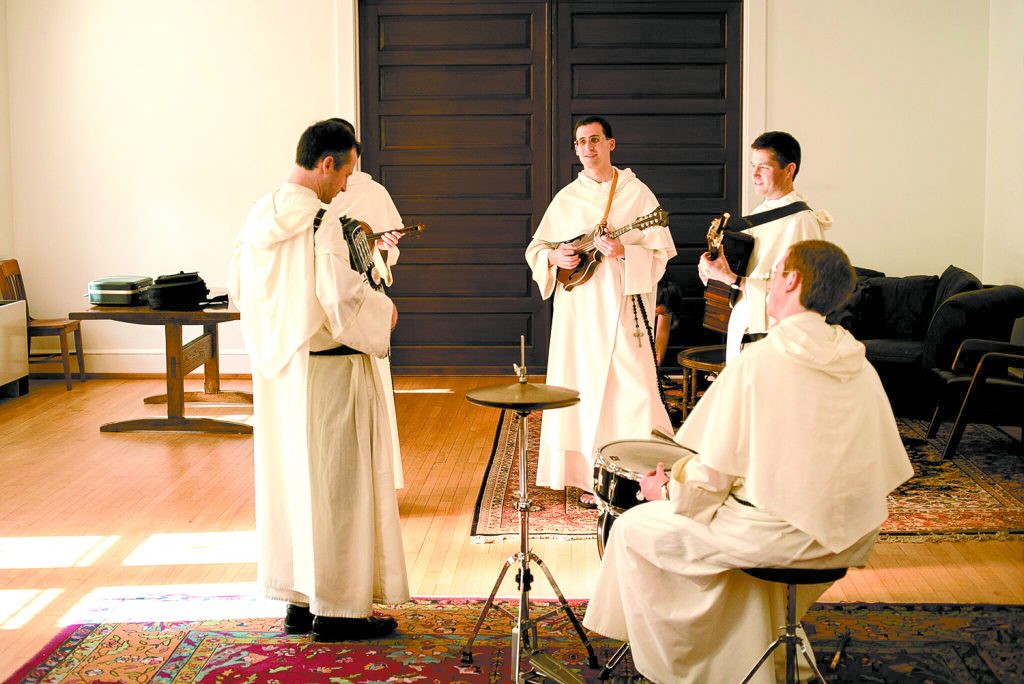 Love for God and music brought a group of Dominicans together to record an album rooted in Gospel values and American identity. The Hillbilly Thomists, comprised of friars (two priests and eight brothers) from the Dominican House of Studies in Washington, D.C, released the album, which reflects their enthusiasm for bluegrass and folk music, in December.
Two of the featured musicians — Brothers Jonah and Simon Teller — are also siblings who hail from St. Gertrude Parish in Madeira, where their vocations were fostered.
Brother Jonah responded to God's call first. "Like many Catholic boys, I thought about the priesthood growing up, but didn't pay it too much mind," he said. "I graduated from college and worked for a couple of years, but kept experiencing a sense of restlessness. With prayer and good counsel, I found the right fit with the Dominicans. It's been a real source of happiness and community for me."
"I started thinking about becoming a priest when I was around seven," said Brother Simon. "With the Dominicans being at St. Gertrude, that was my experience of priestly life. For me, wanting to be a priest meant wanting to be a Dominican. Seeing my older brother in religious life really put things into perspective and I fell in love with the life, too."
"It's a great joy to have someone who knows you as a sibling living and sharing the same life as you," Brother Jonah said. "Our family members are all very happy about our vocations."
Faith was nurtured at home, as was music, the brothers say. Both attended the University of Dallas, where they often gathered with friends to play Irish and American folk music. The two were overjoyed to find other friars at the Dominican House of Studies who shared their interest.
Fathers Thomas White and Austin Litke, the founding members of the Hillbilly Thomists, originally brought a group of like-minded friars together in the early 2000s. Over the years, more joined their ranks, and after appearing at the Appaloosa Festival in Front Royal, Va., in 2015 and 2016, the band set their sights on recording an album, hoping to preach the Gospel through music.
The group's name comes from Flannery O'Connor, a Catholic writer from the American South with a love for St. Thomas Aquinas. O'Connor would read the Dominican saint's Summa theologiae every night before bed, and once wrote that while many readers mistakenly took her for a "hillbilly nihilist," she was really a "hillbilly Thomist."
Why bluegrass and folk music? "It was just providential that we all had similar taste in music," Brother Simon said. "Also, a lot of bluegrass and folk songs are rooted in the Gospel and American tradition. This kind of music has a place in the church that brings people together in a very human way. Even if the songs aren't explicitly religious, they express the pain, loss, love and joy that's part of the human experience. People respond well to music, and it reaches their souls."
The album's 12 songs feature guitar, washboard, fiddle, banjo, and the bodhrán, an Irish drum. Among the selections are bluegrass classics, some folk standards, and a bit of Scotch-Irish instrumental music. Familiar tracks include "Leaning on the Everlasting Arms," "What Wondrous Love is This," and a new take on "Amazing Grace." There are also a few original compositions from the friars. After its release by Dominicana Records, it quickly became the number one best-selling folk-music album on Amazon.
It's a tough call, but Brother Jonah said his favorite song on the album is "Just a Closer Walk with Thee." "I really like how it turned out," he said. "It's the last song on the album and has a slightly different feel, a New Orleans jazz kind of sound. And I just love the message of walking closer with the Lord and trusting in him."
Brother Simon said he's been "blown away" by response to the album. "We had one message from a man who sent it to his daughter who has fallen away from the church. He said he hopes it's a way she can become reconciled. God is definitely using music to plant a seed of faith in peoples' hearts.
"It's been nice to see how a project like this has brought our community together in our brotherhood," he added. "It just goes to show the Lord has plans we don't know about that he reveals one step at a time, enabling us to reach people in ways we never expected."
"Hillbilly Thomists" can be ordered online at Dominicanjournal.org, or downloaded from Amazon.com or iTunes. Proceeds support Dominican students in Washington, D.C.