Dream come true: Florida woman leaves poem at El Cobre shrine
March 28, 2012
By Tom Tracy, Catholic News Service
SANTIAGO DE CUBA, Cuba (CNS) – Last summer, before the press reported that Pope Benedict XVI was considering a visit to Cuba, Nancy Hilburn's Cuban-American friends introduced her to Our Lady of Charity of El Cobre.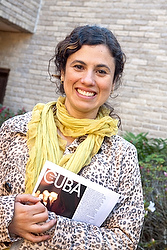 Her friends took her to the Miami shrine to Cuba's patroness, and Hilburn began taking an interest in the iconic image revered across Cuba by religious and nonreligious alike.
The Jacksonville, Fla., resident, a native of the Dominican Republic, researched the history of "Cachita," as the Virgin is sometimes called, and penned a poem, "The Charity that She Teaches Us," as a tribute to the storied image that, in 1612, was discovered floating in the Bay of Nipe by three workers from a copper mine near Santiago de Cuba.
On March 26, Hilburn landed in Santiago de Cuba and, with other U.S. pilgrims, traveled unexpectedly to the Shrine of Our Lady of Charity in El Cobre.
Hilburn said she had given away her only copies of her poem, so when the pilgrims learned they would get to visit El Cobre, she scribbled down what she could remember and left it in the shrine.
"I got to linger there with the people and just wish I had more time at El Cobre," Hilburn said, adding that she left her prayer in a section of the church where generations have left petitions and gifts to Mary. "It was a unifying experience to be there and hear the prayers of other pilgrims and of the local people – universal prayers that we, as Catholics, all pray.
"We are all praying for a miracle for Cuba, and today people of different ideologies reached out with love to each other," she said.
Hilburn said she sees a metaphor in the story of the Cuban image – which legend holds went missing at least three times and reappeared in new locations – and the Cuban diaspora, whose members have also moved from place to place, establishing new homes in Florida and around the world.
Hilburn's poem is a kind of conversation between Our Lady of Charity and a woman who is in her presence, with themes of forgiveness and reconciliation.
She translated a passage to English: "With your sporadic movements you were warned us of what was to come: An exodus, a separation of loved ones, but you would follow us and appear in this New World in which the Cuban pueblo has forged a brotherhood with all of those who emigrate to Florida: It is your new Jerusalem."
A member of St. Paul Parish in Jacksonville, Hilburn and a small group of pilgrims traveled to Cuba under the spiritual direction of Bishop Felipe J. Estevez of St. Augustine who, as a young Cuban, fled to the United States under Operation Pedro Pan. They traveled with several hundred others from Florida and around the country on a pilgrimage to Cuba organized by Miami Archbishop Thomas G. Wenski.
Hilburn praise Bishop Estevez, noting his history of exile and his return to Cuba on behalf of the church for the purpose of dialogue across often-tense borders.
"It is obvious that he loves his people," she said. "You don't want to see your country in distress. The Catholic Church is taking back its roots in Cuba; and that can only be a good thing.
"It does take someone with a big heart and with an open mind to do what he is doing," she said.
Hilburn said she understands the pain and resentment felt by Cuban-Americans toward the communist regime and that some would prefer that the pope not travel to Cuba, but she said she hopes all Cubans will move toward reconciliation.
"For a country to prosper and see the light again, it must have God," she said.