Pope's overnight at El Cobre has spiritual, practical impact
March 28, 2012
By Wallice J. de la Vega, Catholic News Service
EL COBRE, Cuba (CNS) – At first sight, it looked like a sleepy town without much to offer the people who just seemed to be counting the passing seconds.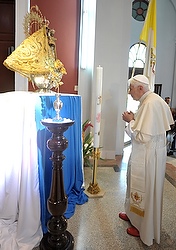 From behind the nearby community center came sounds of contemporary music. A closer look revealed the large outdoor terrace was lined mainly with youngsters having social time and all that goes with it in these parts.
The Shrine of Our Lady of Charity of El Cobre, Cuba's patroness, was closed; its rector was resting from three months of preparations, and seminarian Leandro Um was about to drop, exhausted, while trying to usher out the last pilgrims of the day.
Just hours before, the tiny town of El Cobre had been swamped with Pope Benedict XVI's entourage and the largest security force seen around these parts since the time of the revolution.
"People are good-hearted, but they don't know how much work has been put into this," Um said, referring to the pope's March 26-27 overnight stay. "We just need some time to rest."
A woman who identified herself only as Hilda runs a state-owned convenience store in El Cobre. She calls herself "sort of Catholic," a local self-denominator for the baptized who do not practice but sympathize with the faith. She had a pragmatic view of Pope Benedict's stopover.
"One always wants to have this type of visit to the country," she said about the papal visit to her hometown. "The economy has benefited from the pope's presence here. There has been a huge investment in roads and fixing up things in town; I don't know if it was because of him or not, but whatever the reason, we have improved."
Some of the people approached did not want to talk to Catholic News Service about their papal experience, but in a shaded corner of the main square sat a group of older "Cobreros" – El Cobre natives – who were still "in seventh heaven" about hosting the pope.
"The town is still brimming with happiness, as you can see," said Ramona Munoz, pointing to the outdoor terrace. "I have been stuck to the TV for the past few days because I couldn't sleep, waiting for this day."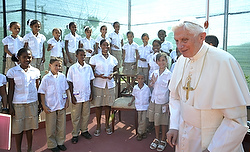 She said El Cobre has many Catholics, and Masses at the shrine are always almost full. But Munoz explained that most practicing Catholics in the region are older people, with younger generations "growing apart from the faith."
Munoz was very proud to point out how much the famous shrine contributes, directly and indirectly, to El Cobre.
"People come from the whole world to visit and talk to La Caridad," as the famous image of Mary is known, and spend money in town supporting the local businesses, she explained. "Also, some of our people work there, especially at the guesthouse, and we are grateful."
Rafael Artiles Iza was more emotional about the papal visit, and particularly more so about La Caridad by itself. He commented about the influence of African religions on local Catholicism, adding: "But above all of them (separate and mixed religions) is Cachita," as La Caridad is known among Cobreros.
"Moreover, let's assume someone here has no religion at all," he continued, "but he is first a Cobrero, and with that automatically comes a devotion for La Caridad."
Many of those present acknowledged that, and a few non-Catholics pulled out tiny Caridad cards from their wallets as proof.
"Cobreros love above all La Caridad," Artiles added, "and then everything else. For example, I'm not a religious militant, but I will not leave the house without this card."
At this point his eyes watered and he could not hold back his tears.
"To me Cachita is something I cannot explain, and unless you are a Cobrero you would not understand it."
Many Cobreros agree their experience as Pope Benedict's overnight hosts has been El Cobre's most important event since the historical events that brought them La Caridad in the 1600s.