Education Briefs: Elder High School gets anonymous donation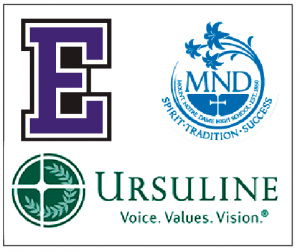 Staff Report
Elder High School principal Tom Otten announced a recent gift of $2.5 million received from the school's "Guardian Angel" family.
Otten explained that the family, who wishes to remain anonymous, earned the nickname "because they seem to be aware of our most pressing needs, yet choose to avoid the spotlight. Instead the donor family has chosen to work through their investment advisor seeking ways they can help Elder." 
This $2.5 million gift is directed to the school's need-based aid program. Tuition for 2014-2015 will be $10,200. "Tuition assistance is the only way many families are able to even consider Elder as a possibility for their sons" Otten said.
In 2007, the Guardian Angel family initially donated $2.0 million. Half was to permanently endow a fund which provides a match for the staff's 401-K program. The other half bolstered the campaign to develop the Panther Athletic Complex (PAC). The complex opened in 2008 and is home to Elder tennis, track-field, soccer and baseball. Seton High School and several Westside elementary schools also utilize the PAC.
MND student recognized with HR award
Mount Notre Dame (MND) student, junior Sydney Armstrong, was awarded the Simon Lazarus, Jr. Human Relations Award for her passion and dedication to community service. This is an annual award that is given to high school students who are compassionate in their service work and who organize their classmates in serving the community. Sydney was first chosen as one of five junior finalists out of more than 60 nominations, and was declared the overall junior winner. Thomas More College President David Armstrong presented her the award – Reds' tickets, a cash prize and two books. Armstrong also added that if she, or any of the finalists chose to attend their college, they would be offered a $15,000 scholarship.
"It was an honor to have been nominated for the Human Relations Award, and an even greater honor to receive the award. As most high school students, I became aware that constantly making decisions, big and small, can shape the rest of our lives. Each choice we make can affect our future, our impact on society, and the way others perceive us. For me, this decision was, and always will be service work," said Armstrong.
Ursuline graduate receives prestigious scholarship
Class of 2014 Ursuline graduate Camille Borders, has been named a Stamps Leadership Scholar and will receive a $289,000 scholarship to Washington University in St. Louis where she will study Women, Gender, and Sexuality Studies, and Economics.
Borders received the scholarship in recognition of her leadership, scholarship, perseverance, service, and innovation.
The Stamps Family Charitable Foundation partners with 41 visionary colleges and universities to award multi-year scholarships that enable extraordinary educational experiences. Of approximately 600,000 applications reviewed for consideration in 2014, 188 were selected as Stamps Leadership Scholars – less than .033% of the applicant pool. The new recipients, whose combined Stamps awards are worth almost $28 million, join nearly 550 Stamps Leadership Scholars and alumni as beneficiaries of these generous merit awards.
This article originally appeared in the July 2014 print edition of The Catholic Telegraph.