Educational Foundations: CISE Preschools Prepare Urban Children for Success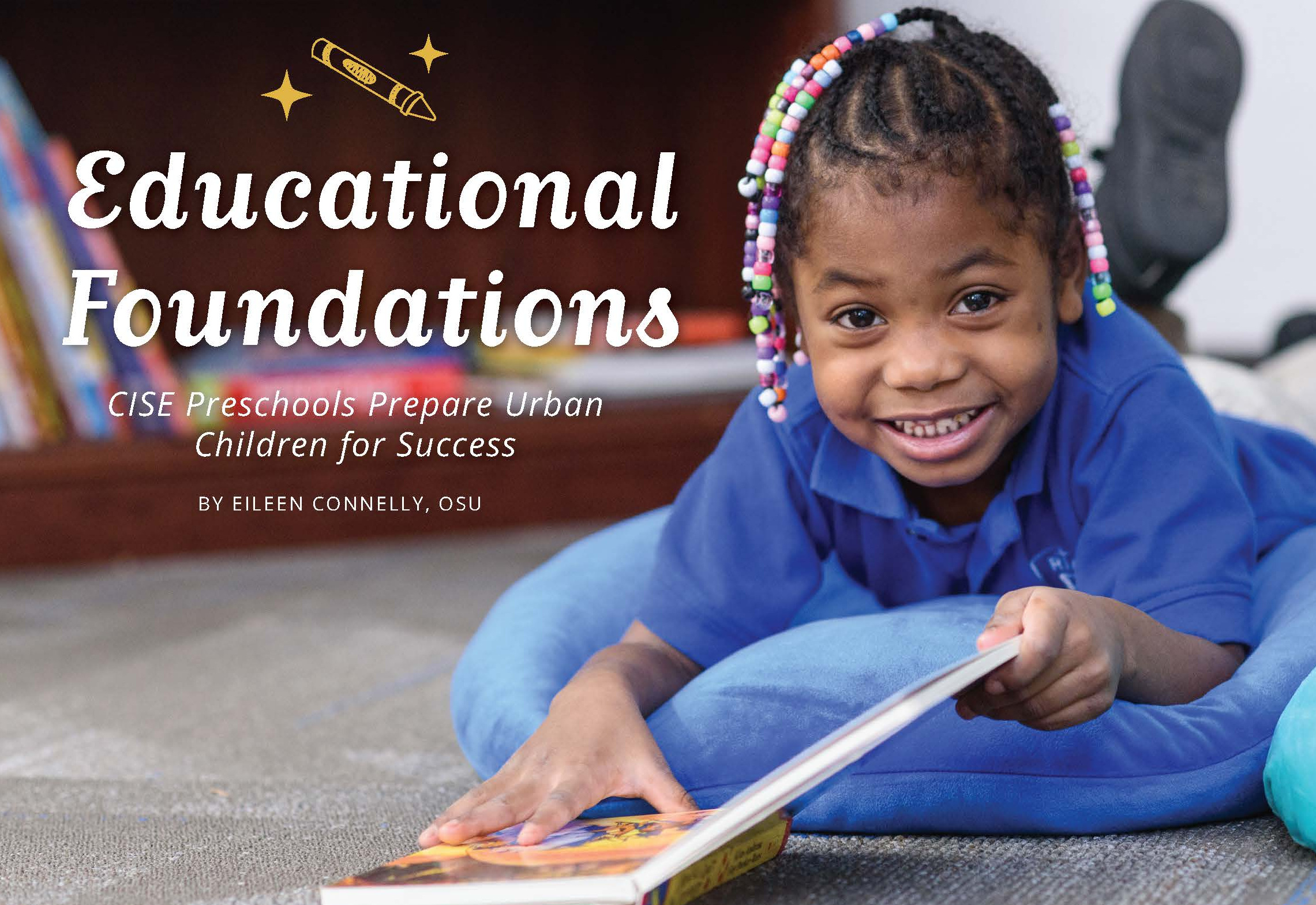 Every day, Jennifer Hagood's 5-year-old son, Ricole, says a prayer. "He doesn't pray for toys. He prays for the people he loves," she explained. "He sends everybody's name up to God."
Hagood attributes her son's concern for others to the solid foundation in both his education and faith-based values he is receiving at Corryville Catholic, one of 10 inner-city schools supported by Catholic Inner-city Schools Education (CISE). CISE works to help rewrite the lives of urban children by providing access to a strong Catholic education at designated elementary schools and high schools.
Currently in Kindergarten, Ricole's experience at Corryville Catholic began in preschool, which CISE Executive Director Mabe Rodriguez describes as "the foundation to a great education. Preschool provides the building blocks for grade school, high school and the children's future, along with improving Kindergarten performance. The sooner you can start building a child's skills, the better. We've made it a priority for CISE to support preschool."
Finding a place for Ricole to begin his education was priority for Hagood, and since she was already on staff at Corryville Catholic as a Title 1 reading teacher, it was a logical choice.
"I love the environment there. It's feels so safe, and the teachers are kind, but firm," she said. "Everyone has been so welcoming and made us feel like family. It's so important for a child to feel welcomed. And any environment where there is prayer every day is definitely good."
She has seen how her son has grown, both academically and personally, from preschool to Kindergarten, and plans to send her daughter, Julia, to preschool at Corryville Catholic, too.
"Ricole is very conscientious about his work and how the teachers will respond," Hagood said. "He has really matured and is more confident in himself."
Stephanie Lockett is equally pleased with her daughter, Marie's, experience at Holy Family School in Price Hill. Marie is in her second year of preschool at Holy Family and will attend Kindergarten there in the fall. Lockett explored a variety of options for her daughter's education, and she ultimately decided on Holy Family, because "I want my baby to be in the best environment possible and for her to be great at whatever she decides to do in life. My niece and nephew go to Holy Family and I know how much they're leaning. After we visited, I knew there was no place else I wanted her to be."
Like Hagood, Lockett cites the structured, yet loving, environment as being critical to Marie's development. "The teachers, the secretary, the principal…they are just the most loving people I've ever met. They really care about the students and the families and they take a personal interest in you," she said. "That's one of the biggest reasons I'm sending her back, along with the faith-based values. I love how they emphasize kindness and compassion."
She recalled the school community's response last year when a neighboring family lost everything in a fire. "The whole school came together to help," Lockett said. "Marie picked out clothes and shoes to give away and was so excited to take them to school to help. She's grown up during her time in preschool and I've seen how caring she's becoming."
CISE currently funds 14 preschool classrooms in nine of its schools, an increase of 27-percent over the past three years, Rodriguez said. St. Boniface doesn't currently have a preschool, but there are hopes to start one there in 2022.
Five of the CISE schools have achieved a five-star quality preschool rating from Preschool Promise. Corryville Catholic and Holy Family were the first two schools in the Archdiocese of Cincinnati to receive the designation, followed by St. Cecilia, St. Lawrence and St. William. CISE is currently working with consultants from Learning Grove to help more of their schools achieve the rating.
Rodriguez emphasized that CISE is committed to making a quality preschool experience available to more at-risk children and welcomes donations.
"Our donors should be proud that they're investing in children's futures this way," she said. "We're so grateful their support."
CISE serves 2,600 scholars at area Catholic schools and provides scholarship assistance at designated Catholic high schools. Approximately 96-percent of CISE students are from low-income families; 85-percent are minorities and more than 70-percent are non-Catholic. Ninety-four percent of CISE graduates are accepted into college. Please contact Debbie Weitz at [email protected] or 513-263-3471, or visit at www. cisekids.org for more information.
This article appeared in the May edition of The Catholic Telegraph Magazine. For your complimentary subscription, click here.