Excitement reigns among laity, religious before Philadelphia papal Mass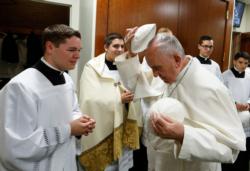 By Mark Pattison Catholic News Service
PHILADELPHIA (CNS) — There is no single way for every person at a papal Mass, or even near one, to be excited. Whether on one's feet or in one's seat, people feel a certain tingle when they know the pope of the Roman Catholic Church is soon to be within their midst.
Such was the case for Julio Garcia, 24, and his friend, 23-year-old Isabel Sandoval, of Dallas. They came from Texas to be outside the Cathedral Basilica of SS. Peter and Paul before Pope Francis' Mass Sept. 26.
How much before? "We got here at 3:30" in the morning, seven hours before the scheduled start of the Mass, Garcia said. They were among the luckier ones; others slept outside, across the street from the basilica. And just why, exactly?
"To see the pope," he replied.
Sister Kimberly Miller, a Sister of the Immaculate Heart of Mary who teaches religion at Little Flower High School for Girls in Philadelphia, was wasting no time. "Give me your rings," she said to a photographer she knew. The photographer complied. Sister Kimberly scurried off with them, her gray sneakers not quite complementing her light-blue habit and black headdress.
A couple of minutes later, she returned. "There! Now you've got second-class relics," she said. Sister Kimberly had taken the rings and held the items in her hand, poking between bars of a reliquary inside the basilica so that they touched the dress of St. Gianna Beretta Molla, a 20th-century Italian woman who was canonized in 2004. The patron of mothers, unborn children and physicians, she refused to undergo an abortion or a hysterectomy that would have resulted in the death of her unborn fourth child once doctors detected a uterine fibroma on the mother. She died of septic peritonitis several days after giving birth to a healthy daughter.
"The Catholic Source Book: A Comprehensive Collection of Information About the Catholic Church," though, defines as a second-class relic any item of clothing a saint wore, and a third-class relic as an item that touched either a first- or second-class relic.
Sister Kimberly said she had gotten her mother's wedding ring and her father's medal made into relics in the same way. "They're with me," she added, noting that Pope Francis would be the third pope to give her a blessing.
She could talk no longer with Catholic News Service. "I've got to get more rings," she said.
The votive Mass for Our Lady Mother of the Church packed the basilica's 1,500 seats — including an estimated 450 chairs placed there for the occasion — plus another 500 seats in the chapel alongside the basilica. This does not count the many hundreds of chairs placed in the sanctuary for bishops and clergy. More than 300 priests attended, as did 160 deacons as well as hundreds of women religious who minister in the Archdiocese of Philadelphia.
One of them, Franciscan Sister Kathy Flood, is a self-described "newbie." At age 52 last year, she was temporarily professed to the Sisters of St. Francis of Philadelphia. Her motherhouse got 20 tickets for the Mass.
Sister Kathy said she had been working in the computer field. In 2007, her job was transferred from New Jersey to Delaware. While she went to her new parish to register and network with others, "I sensed something else was stirring within me," she told CNS. "I felt there was something more to this."
Her pastor referred Sister Kathy to the delegate for religious in the Diocese of Wilmington, Delaware. In the discernment process, she visited many religious orders and met "a lot of good women doing a lot of good work," she said.
Sister Kathy said she chose the Franciscans because of "the way they lived together, they way they celebrated liturgies together. … It certainly was a feeling of comfort, of peace."
Computers are no longer Sister Kathy's field. She's studying pastoral counseling at Neumann University in Philadelphia. Moreover, she's not even the youngest in the motherhouse, as a woman in her early 30s is also in the formation process.
"I have hope because of the vivaciousness of the sisters and the passion for what they do," Sister Kathy said.
Not only were there hundreds of priests, deacons and religious, but plenty of laypeople, too.
Julianne Donahue, the religious education coordinator at Our Lady of Mt. Camel Parish in Doylestown, Pennsylvania, told CNS she and her sister, Debbie Engle, got tickets was through her brother, Msgr. Dennis Hill, who just happens to be the basilica rector. Donahue didn't have to travel far to get to the Mass, as she had been volunteering for the World Meeting of Families' youth congress earlier in the week and staying at a nearby hotel.
Fabiola Veytia was with five other women from an organization called AMSIF, which she described as a Houston-based charity that helps low-income immigrant women. The organization has 14 locations in the Houston area.
The six AMSIF representatives all wore white blouses with blue scarves. How did an organization 1,000 miles from Philadelphia manage to wangle six tickets? Veytia replied, "The Vatican."
Needing no ticket, but a credential nonetheless, was Charlene Angelini, the cantor for the Mass. Angelini, 34, started taking piano lessons at age 6, and by age 10 was cantoring in church.
She got a dual major in vocal performance and piano performance from West Virginia University, then headed right back to Philadelphia, where she is music director of two twinned parishes.
Angelini has also sung with the basilica's choir for the past five years. The choir had 200 members in the choir loft for the Mass; it can be as large as 500 for some occasions.
She said she had been familiar with all the music chosen for the papal Mass, and the choir rehearsed for two months.
"The anthems are of greater difficulty than regular Mass parts, but exciting and challenging nonetheless," Angelini said.
Posted September 26, 2015