The Final Word: Remember the faithfulness of Joseph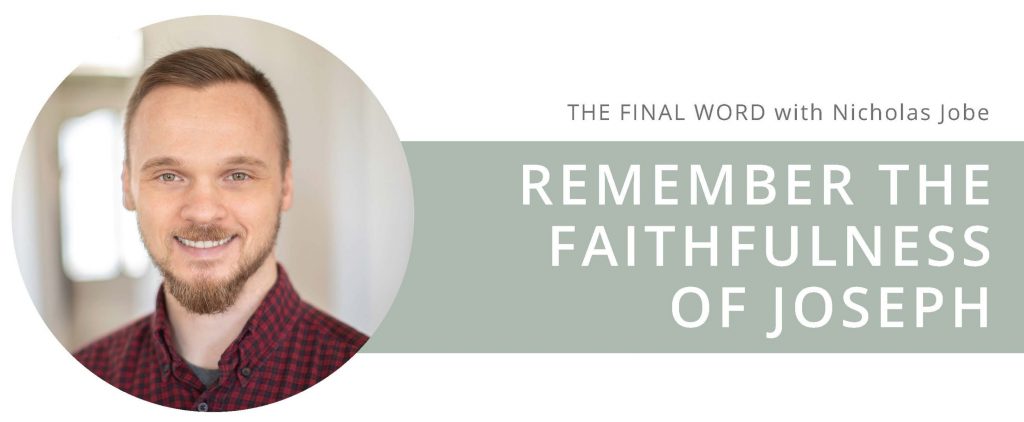 Those who are familiar with the extended lore of Tolkien's Middle Earth know of the great wolfhound Huan, the "Hound of Valinor," who was given the power to speak only three times before his death. Knowing this, you would be sure to pay special attention to whatever extraordinary words came from Huan's mouth. You would never forget those words – just like I've never forgotten the words St. Joseph spoke to me.
Joseph obviously plays a prominent role in the Gospels and in the life of the Holy Family, yet he has no recorded words in all of Scripture. Imagine my surprise, then, when he spoke to me in prayer one day. It was a cold winter morning in late 2014, and I was at Holy Family Catholic Church in Dayton, praying before St. Joseph's statue after confession and before the start of Holy Mass. In prayer, I sought Joseph's intercession for my struggles as a single man in graduate school. Suddenly, in a clear voice that sounded in both my ears and my heart, I heard Joseph say eight unmistakable words: "You need to increase your devotion to me."
Immediately after Holy Mass, I began searching online and at our local Catholic bookshop. I was soon invested in the Purple Scapular of St. Joseph, and I began acquiring holy cards and other small artworks of him to fill my tiny apartment with daily reminders of his patronage. My devotion to him has ebbed and flowed in the six years since that morning, but I also know that my victories and defeats vary directly with that devotion. The closer we are to the saints who are with God in Heaven, the closer we are to God Himself!
I realized much later that the year leading up to that moment was already a precursor to St. Joseph's unforgettable admonition to me. I had my heart set on a particular school for graduate studies – but when it came time to apply, God said, "No." It wasn't that I applied and was rejected; I mean that God presented a different option, and He asked me to choose that one instead. I resisted for weeks, and I was angry with God. But it was the only answer I received in prayer.
So I took a leap of faith, and I applied. But it was a challenge. I took six years to finish a two-year master's degree. As Providence would have it, however, I met my wife there. Today we have two beautiful daughters, Madeleine Immaculata and Mariana Caeli. God surely knew what He was doing.
God does not always ask us to do what is easy, but He does ask us to do what is right. When Joseph intended to divorce Mary quietly, because she was found to be pregnant, an angel appeared to him in a dream and said:
"Joseph, son of David, do not be afraid to take Mary your wife into your home. For it is through the Holy Spirit that this child has been conceived in her. She will bear a son and you are to name him Jesus, because he will save his people from their sins." When Joseph awoke, he did as the angel of the Lord had commanded him (Matt. 1:20-21, 24).
Joseph followed the path of the Lord again when he took Mary and Jesus into Egypt to escape Herod's plot to kill the Messiah. In just a few verses, St. Joseph becomes for us an exemplar of faithfulness, one who continually hears the will of God and does whatever it takes to follow Him. Joseph follows God even when the reason may not seem clear or the path may be difficult. In this Year of St. Joseph, and as we approach his feast, remember the faithfulness of Joseph. Increase your devotion to him, and he will lead you to the Lord!
Nicholas Jobe and his wife, Elizabeth, live in Anderson Township with their two young daughters, Madeleine and Mariana. They are parishioners of Old St. Mary's. Nick has been the Registrar at Mount St. Mary's Seminary & School of Theology since 2016. He is also the founder and "Quartermaster" of Our Lady's Armory, selling handcrafted rosaries, sacramentals and other unique Catholic gifts.
This article appeared in the March 2021 edition of The Catholic Telegraph Magazine. For your complimentary subscription, click here.