New Rector announced at Athenaeum of Ohio/Mount Saint Mary's Seminary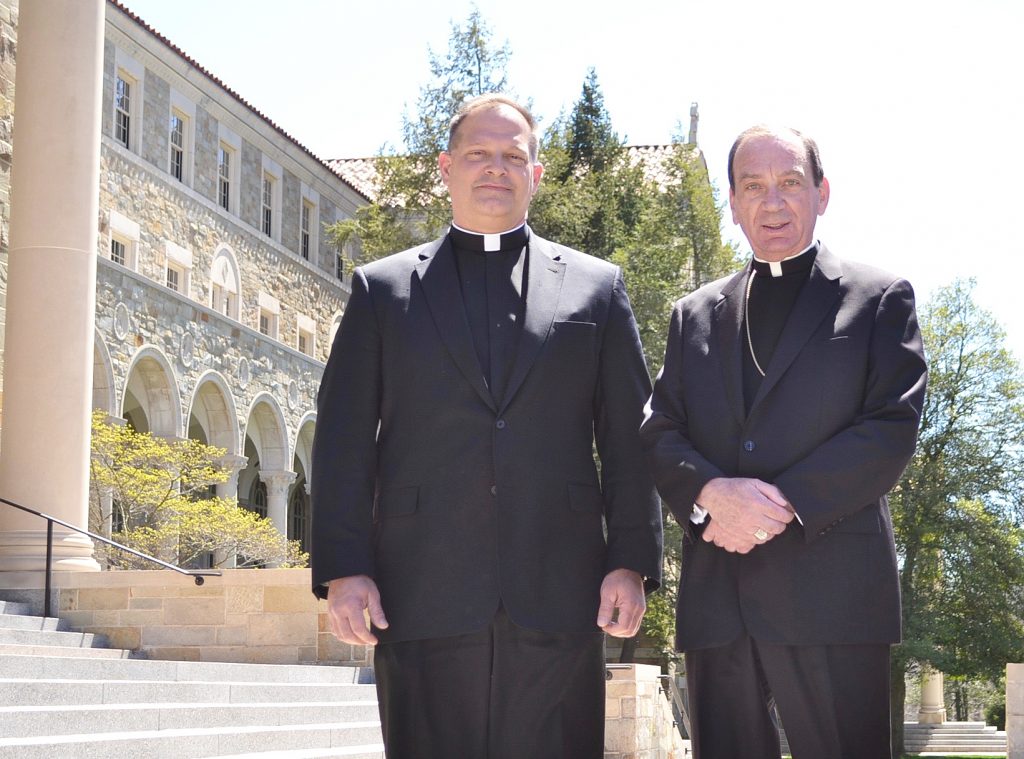 Archbishop Dennis M. Schnurr announced today that Father Anthony Brausch will be installed as the thirty-sixth President of the Athenaeum and Rector of Mount St. Mary's Seminary on May 13, 2018.
Archbishop Schnurr thanked Father Benedict O'Cinnsealaigh for his seven years of leadership as President and Rector and for his eighteen years of service to the Athenaeum and Mount St. Mary's Seminary as a faculty member. Father O'Cinnsealaigh will begin his assignment as Pastor of Our Lady of Victory Parish in Delhi on July 2, 2018.
"There has been tremendous change and growth here over the past seven years," Archbishop Schnurr said at a gathering of seminarians, faculty and staff in the St. Gregory the Great chapel at the Mount Washington seminary. "I want to express my gratitude for the great leadership that Father Benedict has provided, his whole-hearted service and dedication to the mission of the church and this institution, and his generosity of spirit."
Introducing Father Brausch's appointment to succeed Father O'Cinnsealeigh, the archbishop called The Athenaeum, "one of the finest houses of formation in this country."
Father Brausch, who is currently the seminary's vice rector and director of formation, will assume his new position on May 13, at the Athenaeum's graduation ceremony.
For more information about Father O'Cinnsealaigh's tenure at the seminary and about Father Brausch, look for the June issue of The Catholic Telegraph.
---
About Father Anthony Brausch
The Rev. Anthony R. Brausch, born August 1966 and baptized the same month at St. Phillip the Apostle Church in Morrow, Ohio, was named today as the thirty-sixth president of the Athenaeum of Ohio and rector of Mount St. Mary's Seminary of the West. The son of Thomas and JoAnn Brausch of Wilmington, Ohio he is the third oldest of ten children, uncle of thirty-eight nieces and nephews and great-uncle of three great nieces and nephews. He holds a bachelor's degree in philosophy from the Pontifical College Josephinum in Columbus, Ohio; a Masters of Divinity from the Athenaeum of Ohio; and, a licentiate and doctorate in philosophy from the Gregorian University in Rome.
Fr. Brausch was ordained a priest in 2002 by Archbishop Danial E. Pilarczyk and assigned as parochial vicar to Our Lady of the Visitation Parish in Cincinnati and as full time faculty member at Elder High School. In 2003 he became administrator of Our Lady of the Visitation while continuing to teach at Elder and in 2004 was assigned to do further studies in Rome.
Fr. Brausch returned to Cincinnati in 2008 and was assigned to Mount St. Mary's Seminary as a member of the teaching and formation faculties. In 2011 Archbishop Schnurr appointed him Vice-rector as well as Director of Formation for the seminary and Director of Formation for the Permanent Deacon Program. Fr. Brausch served as the President/Rector Pro tem of the institution during Fr. Benedict O'Cinnsealaigh's sabbatical the first three months of this year.
Since returning from Rome, Fr. Brausch first served as Sunday associate at St. Margaret of York Parish in Loveland and then, beginning in 2014 at Guardian Angels Parish in Mt. Washington. In 2013 he was granted faculties to celebrate the Maronite Rite for St. Anthony of Padua Parish in order to assist there on weekends as well. In 2016, His Holiness Pope Francis named Fr. Brausch one of the confessors to serve as a Missionary of Mercy for the Jubilee Year. In 2017, the title and faculties associated with this appointment were extended by the Holy Father beyond the Jubilee Year and for the foreseeable future. Fr. Brausch is a member of the Elder High School Board of Trustees and, since 2008, chaplain to the Elder High School Football Team.