Father Donald McCarthy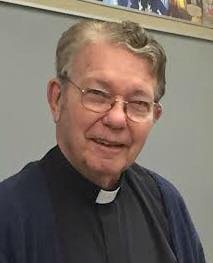 Reverend Donald G. McCarthy passed away on Friday, January 5, 2018. He was born on December 20, 1929 in Cincinnati, Ohio. He did his preparatory studies at St. Gregory Seminary and studied theology at Mount St. Mary's Seminary of the West, Norwood. He was ordained on August 22, 1954, after his third year of theology, at Mt. St. Mary of the West Seminary Chapel, Norwood by Archbishop Karl J. Alter. He returned to the Seminary after ordination for his final year of theology.
Father McCarthy received his first assignment on June 16, 1955 as Assistant at St. William Parish, Cincinnati and to teach at Elder High School, Cincinnati.
On June 14, 1957, he was appointed Assistant pro tem at St. Jerome, California (Cincinnati). That same year, he left to go for studies at Louvain University in Belgium; in 1960 he earned his PhD.
On August 19, 1960, he was appointed to the faculty of Mt. St. Mary's Seminary as Instructor in Philosophy as well as a Chaplain of the Newman Club at the University of Cincinnati, where he remained Chaplain until 1969.
On September 6, 1961, he was appointed to help on weekends and holy days at St. Mary Parish, Oxford. On March 13, 1970, he was appointed Diocesan Director of Campus Ministry.
In June 1972, he went on Sabbatical leave for one year to pursue studies in Moral Theology.
On October 23, 1973, he was appointed Pro-Synodal Judge in the Tribunal of the Archdiocese of Cincinnati while continuing on faculty at Mt. St. Mary's Seminary.
In August 1979, he was appointed Director of Education at Pope John XXIII Medical Moral Research Center, St. Louis, MO, while continuing as part-time visiting professor at the seminary.
On August 1, 1981, he was appointed Associate Ad Cautelam at St. Cecilia Parish, Cincinnati while continuing part-time at Pope John XXIII Center and Mt. St. Mary's Seminary.
Father McCarthy was appointed Pastor of St. Antoninus Parish, Cincinnati on September 4, 1984. He was appointed Dean of the St. Lawrence Deanery, effective January 1, 1987 – December 31, 1990, then reappointed for a second term ending December 31, 1994. He was appointed to the College of Consultors of the Archdiocese of Cincinnati on December 29, 1986, reappointed November 6, 1990 – November 3, 1995, and November 3, 1995 – November 3, 2000.
Father McCarthy retired from active ministry on July 1, 2003. After his retirement he held the following appointments as Temporary Parochial Administrator; St. Bernard Parish, Taylor Creek, effective October 3, 2005; St. Aloysius-on-the-Ohio Parish, Cincinnati, effective January 26, 2007; St. Ignatius Loyola Parish, Monfort Heights, effective September 8, 2011 – December 19, 2011.
Reception of the Body: Wednesday, January 10, 2018 at 5:00 p.m. at St. Ignatius Loyola Church, 5222 North Bend Road, Cincinnati, Ohio 45247; (513-661-6565.) Celebrant and Homilist: Reverend Peter T. St. George. Visitation: following Reception of the Body until 8:00 p.m.
Mass of Christian Burial: Thursday, January 11, 2018 at 10:30 a.m. at St. Ignatius Loyola Church. Celebrant: Most Reverend Dennis M. Schnurr. Homilist: Reverend John E. Wessling. (A lunch reception will follow in Hilvert Hall.)
Burial: Thursday, January 11, 2018 at 2:30 pm at St. Mary Cemetery, 701 E. Ross Avenue, Cincinnati, Ohio 45217. Celebrant: Reverend Kyle E. Schnippel.
Associates of the Marian Pact are asked to offer, as soon as possible, one Mass for the repose of the soul of Father McCarthy, and when convenient, to provide for the celebration of two other Masses.
May God welcome His faithful servant to his eternal home in heaven. May he rest in peace. Amen.