Father Jack Mattscheck, retired priest, dies at 88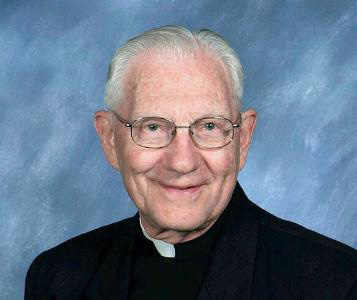 Father John "Jack" J. Mattscheck died Thursday morning, May 29.
Born Nov. 8, 1926 in Cincinnati, he did his preparatory studies at St. Gregory Seminary and studied theology at Mount St. Mary's Seminary of the West in Norwood. He was ordainedMay 30, 1953 at St. Monica Cathedral in Cincinnati by Archbishop Karl J. Alter.
Father Mattscheck received his first assignment on June 22, 1953 as an assistant pastor at St. Therese Little Flower Parish in Mt. Airy and was also appointed to the faculty of Elder High School, where he taught until 1963. In June 1955, he was appointed assistant at St. James the Greater Parish, White Oak, and in 1960 he was appointed assistant at St. Vivian Parish, Finneytown.
In 1964, Father Mattscheck was assigned to St. Gregory Seminary with Sunday and Holyday assistance to the pastor of St. Joseph Parish, North Bend. He was appointed administrator of St. Ann Parish, Williamsburg, in 1972 and spiritual director of Mount St. Mary's Seminary of the West in 1974. He served at the seminary until 1979, when he was appointed pastor of St. Therese Little Flower Parish. 
In July 1991, he was appointed associate pastor at St. Ignatius Loyola Parish, Monfort Heights. During his years of ministry Father Mattscheck also served as temporary administrator of St. Stephen Church, Cincinnati, dean of the St. Margaret Mary Deanery, director of the Priests' Eucharistic League, and a member of the College of Consultors. He retired in June 1998.
Reception of the Body will be Wednesday, June 4, at 4:30 p.m. at St. Martin of Tours Church, Cheviot, with visitation until 8 p.m. Mass of Christian Burial will take place at 11a.m. Thursday, June 5, at St. Martin of Tours Church. Most Reverend Dennis M. Schnurr, Archbishop of Cincinnati, will preside and Father James Shappelle will preach. Burial will follow immediately at St. Aloysius Gonzaga Cemetery, 4366 Bridgetown Road, Bridgetown.