St. Gertrude Parish to open Eucharistic exposition chapel June 22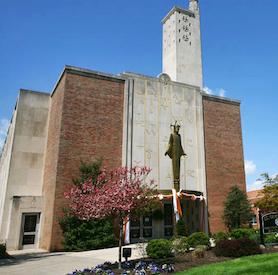 By Eileen Connelly, OSU
The Catholic Telegraph
Ever since he was ordained in 1992, Dominican Father Andre-Joseph LaCasse has dreamed of being able to offer members of the faith communities where he has served the opportunity to participate in adoration of the Blessed Sacrament continuously during the day and night, seven days a week. 
For practical reasons and due to liability issues, this wasn't possible at his previous parishes. Now, as pastor of St. Gertrude Parish in Madeira, Father LaCasse will see this dream become a reality with the opening of the Mother of Mercy Perpetual Eucharistic Exposition Chapel on June 22, the Feast of Corpus Christi.
Father LaCasse said many parishioners had expressed an interest in eucharistic adoration and there was space available in a empty office in the parish center that offers the necessary parking lot access. Benefactors completely sponsored renovations to the space, so there was no cost to the parish. "The way things came together is the work of the Holy Spirit," Father LaCasse said.
The chapel will be open to the general public for adoration from 6 a.m. to 9 p.m. During the overnight (or non public hours) only private adorers (those with key card access or permission) will be able to access the chapel. Father LaCasse said the parish is seeking adorers from throughout the archdiocese. At least one adorer is needed per hour, while the ideal is three, he said. To date, more than 300 adorers have signed up.
"We want to do this because so many graces are going to come out of it, not just at St. Gertrude's, but also throughout archdiocese," Father LaCasse said. "Everyone is so busy, but to take just an hour out of one's schedule to be before the Blessed Sacrament brings so much grace, peace and joy."
Mass will be celebrated at 12:30 on June 22, followed by the Corpus Christi eucharistic procession with the monstrance to the new chapel. The chapel will then be blessed. After the blessing, there will be formal Benediction just outside the chapel, and the eucharistic Lord will be brought inside. Everyone will be allowed to enter the chapel for a brief moment to reverence Jesus. The first hour of eucharistic adoration (from 3-4 pm) will be taken up by the committee who spearheaded the program. Eucharistic adoration will then begin perpetually at 4 p.m.
For more information or to sign up to become a perpetual eucharistic adorer (also known as a eucharistic guardian), please visit www.stgertrude.org.
This article originally appeared in the June 2014 print edition of The Catholic Telegraph.