Father Michael Seger, Seminary Teacher, Dead at 66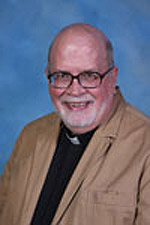 Reverend Michael Anthony Seger died Saturday, April 8, 2017, at age 66. He was born on July 13, 1950. He earned an M.A. degree from the University of Minnesota and a Master's in Divinity from Mount St. Mary's Seminary of the West, Cincinnati. He was ordained to the priesthood by Archbishop Daniel E. Pilarczyk on June 4, 1988 at St. Peter in Chains Cathedral.
Fr. Seger received his first assignment on July 5, 1988 as Associate Pastor at St. Catharine of Siena Parish, Westwood (Cincinnati). On May 31, 1990, he was assigned to graduate studies at Louvain University, Belgium. Fr. Seger was appointed to the faculty of the Athenaeum of Ohio/ Mount St. Mary's Seminary, effective September 9, 1996. While teaching at Athenaeum, he was assigned to assist with Sunday/weekend help at various parishes. He was appointed Parochial Vicar of Saint Teresa of Avila Parish, Price Hill, on July 1, 2015. On August 4, 2015, Father Seger was appointed Censor of Books for the Archdiocese of Cincinnati. He retired on June 30, 2016.
Reception of the Body will take place at 5 p.m. Monday, April 17, at St. Teresa of Avila Church, with visitation until 8 p.m. at the church. Most Reverend Dennis M. Schnurr, Archbishop of Cincinnati, will celebrate the Mass of Christian Burial at 10 a.m. Tuesday, April 18, at St. Teresa. Burial will follow at 2 p.m. at Gate of Heaven Cemetery in Montgomery.