Father Stanley H. Neiheisel dead at 81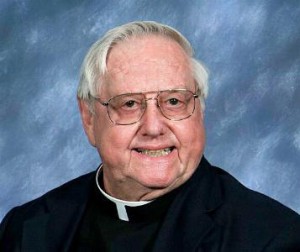 Father Stanley H. Neiheisel passed away on Friday, January 29.
He was born on March 5, 1934, in Cincinnati. He did his preparatory studies at St. Gregory Seminary and studied theology at Mount St. Mary's Seminary of the West. Fr. Neiheisel also received a Master's degree in Education from Xavier University. He was ordained to the priesthood on August 28, 1960 at St. Peter in Chains Cathedral by Archbishop Karl J. Alter.
Fr. Neiheisel received his first assignment on June 16, 1961 as assistant at St. Lawrence Church in Price Hill (Cincinnati). In August 1961, he was appointed both assistant at Resurrection Church in Dayton and part-time teacher at Carroll High School, Dayton. One year later became a full-time teacher, continuing at Resurrection. On December 30, 1965, he was assigned as assistant chaplain at Good Samaritan Hospital in Dayton.
He was appointed acting principal of Carroll High School on May 25, 1968, and in June of that year became an assistant at Ascension Parish, Kettering. On June 19, 1974, Fr. Neiheisel was appointed principal of Fenwick High School, Middletown, and associate at St. Mary Parish, Middletown, becoming administrator of St. Mary on September 10, 1974.
Fr. Neiheisel was appointed resident associate at St. John Parish, Middletown, in 1978; pastor of Nativity of Our Lord Parish, Pleasant Ridge (Cincinnati) in 1979; and pastor of All Saints Parish, Kenwood, in 1984. In October 1994 he became resident associate of St. Mary Congregation, North College Hill. He was then appointed associate pastor of St. John the Baptist, Harrison, in July 1995. He was appointed Pastor of Holy Cross-Immaculata, Mt. Adams (Cincinnati), in June 1996 and to the additional post of parochial administrator of Old St. Mary's Parish, Over-the-Rhine (Cincinnati), in October 2002. Fr. Neiheisel retired on July 1, 2005.
Reception of the body will take place at 5 p.m. Tuesday, February 2, at St. Stephen Church, in Cincinnati. Visitation will continue until 8 p.m. Most Reverend Dennis M. Schnurr, Archbishop of Cincinnati, will preside at Mass of Christian Burial at 10 a.m. Wednesday, February 3, at St. Stephen. Fr. Robert A. Obermeyer will preach. A reception will follow immediately in Foundation Hall. Burial will take place at 3 p.m. at St. Aloysius Gonzaga Cemetery, Bridgetown.
On the 50th anniversary of his ordination, Father Neiheisel said: "When I look back on fifty years, I realize every day that I didn't choose God, He chose me."
The Roman Catholic Archdiocese of Cincinnati is the 38th largest Catholic diocese in the country, with almost 500,000 Catholics, and has the sixth largest network of Catholic schools in terms of enrollment. The 19-county territory includes 211 parishes and 111 Catholic primary and secondary schools.