Father Thomas Wray to lead Office of Evangelization and Catechesis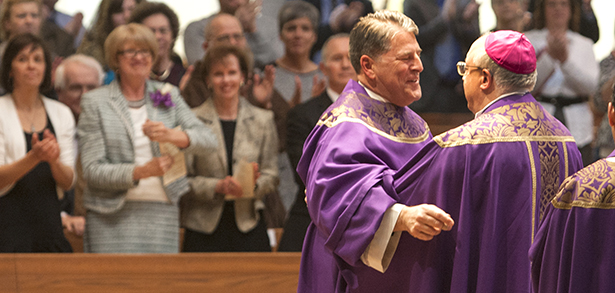 Press Release
Father Thomas Wray, Parochial Vicar and Director of Religious Education at St. Margaret of York Parish in Loveland, has been named the Director of the Office of Evangelization and Catechesis (OEC) for the Archdiocese of Cincinnati, effective July 1, after a national search.
He will succeed Ken Gleason, who is retiring after 19 years as OEC director. 

"Father Wray is a man of abundant talent and passionate faith," said Jim Rigg, Director of Educational Services and Superintendent of Catholic Schools. "He is an ardent evangelist, having spearheaded the many faith formation programs at St. Margaret of York. Father Wray has a proven track record of establishing a compelling vision for evangelization and catechesis. I know that our catechetical programs will thrive under his leadership."
A former Episcopal cleric, Father Wray was received into the Catholic Church along with his wife and two children in 2011. He was ordained a priest of the Archdiocese of Cincinnati on March 7, 2015.
Prior to his service at St. Margaret of York, Frather Wray worked as a hospital chaplain, a fundraising consultant and rector of St. Thomas Episcopal Church (Terrace Park) and St. Anne Episcopal Church (West Chester), among others. Father Wray holds a bachelors degree from Wheaton College and a masters in divinity from Garrett-Evangelical Theological Seminary.
He is currently working on a doctorate of ministry from Catholic Theological Union in Chicago.
"I wish to thank Mr. Gleason for his incredible service to the Archdiocese," Rigg said. "We will miss his presence and many talents."
Posted March 19, 2015