Throwback Thursday: When Dayton won it all — sort of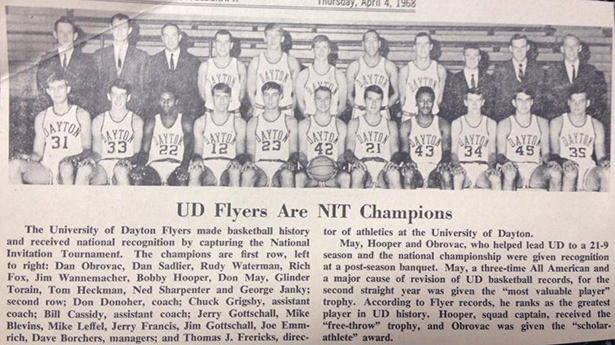 Staff Report
With the attention of many focused firmly on the NCAA Division I Men's Basketball tournament, today's Throwback Thursday takes a look at the decade when Dayton won two national championships — sort of.
In 2015, even die-hard college basketball fans struggle to get excited about the National Invitation Tournament. In the 1960s, however, the tournament was still a major player and its champion twice that decade came from the Archdiocese of Cincinnati.
The University of Dayton, a Catholic university in the Marianist tradition, won the once-prominent NIT in 1962 (defeating St. John's) and again in 1968 (defeating Kansas). The 1968 team was led by Don May, who went on to play seven years in the NBA.
While the NIT was once the premier college basketball postseason event, by the 1960s the NCAA tournament had begun taking away a measure of prestige as it became the dominant tournament. While the NCAA was the "big dance," before 1975 only one team per conference was admitted, and the NIT remained showcase for some of the nation's best talent.
Though most would consider NCAA tournament-winning John Wooden's UCLA squad the true collegiate champions of 1968, as late as 1970 a team refused an NCAA tournament bid to compete in the NIT. When Dayton won the championship in 1962, the NCAA champion was located much closer to home — the University of Cincinnati.
Dayton would go on to win the NIT once more in 2010, but by the mid 1970s the NIT had become little more than a consolation bracket for teams not selected by the NCAA.
In the late 1950s, another institution from the archdiocese became the first to claim an NIT title. Xavier defeated UD in the final. If The Catholic Telegraph had images of that contest, the Throwback Thursday team was unable to find them. If you have images from that contest, please share them via email HERE.
While the Flyers and Musketeers have storied histories of basketball success, neither team has claimed an NCAA Division I men's basketball championship.
The University of Dayton, a No. 11 seed this year, takes on fellow Catholic college Providence Friday at 9:57 p.m.
Xavier, a No. 6 seed, will face Ole Miss today at 4:10.
Welcome to The Catholic Telegraph's edition of Throwback Thursday. Throwback Thursday is a weekly online activity wherein users of social media share an old photo or anecdote about times gone by. We use Throwback Thursday to highlight the history of the Archdiocese of Cincinnati, and our publication.
Recent Throwback Thursdays
Bishop on a bulldozer
Remembering Sister Dorothy Stang
Catholic Press Month
Basketball Bishop
Supporting life in every age
Posted March 19, 2015