Female VP at West Bank university says her new role inspires ambitions
September 24, 2012
Catholic News Service
BETHLEHEM, West Bank — Thirty-five years after the first class graduated from Bethlehem University, one of its members became the first woman and Palestinian to hold the Catholic school's highest academic position.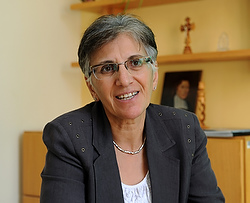 "No one ever imagined this position not being held by a (Christian) brother," said Irene Hazou, newly appointed academic vice president.
"My appointment has had a very positive impact on the faculty and staff at Bethlehem University because the more we have local people in high positions in the administration, the more they feel the university is deeply rooted in this culture and this country," she told Catholic News Service. "It gives them a sense of belonging and that this position can be reached; there need not be any limit to people's ambitions here at the university. I think that says a lot to many people."
Bethlehem University, the first university established in the West Bank, was founded in 1973 through the joint efforts of Palestinian educators, community leaders, the Vatican and the De La Salle Christian Brothers, who today run the university.
Hazou joins two male Palestinian colleagues who hold the positions of executive vice president and administrative vice president. The university's fourth vice president, for development, has traditionally been held by a De La Salle Christian Brother.
Hazou said the words of support and encouragement she received from her colleagues gave her a "deeper sense of responsibility," she said.
Her children – a son, 23, and a daughter, 18 – are pursuing interests in Italy and Brazil, respectively, so the new position has come at an ideal time for her, she said.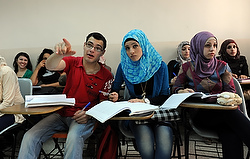 "Last year my daughter was in her last year of high school and needed all the attention and help I could give her," she said. "Now I have time on my hands and can focus on my work."
Hazou noted that though only a handful of Palestinian women have held vice president positions at Palestinian universities, female students now constitute the majority at the universities.
"As you move up the ladder in positions and degrees, then the numbers (of women) almost disappears. That is why even by Palestinian standards (my appointment) is quite significant," she said.
Noting her long association with the university, Christian Brother Peter Bray, vice chancellor, said Hazou will bring to her new position "a depth of understanding of Bethlehem University, a significant competence and expertise, and a deep awareness of the direction in which we need to move to ensure that the quality of what Bethlehem University offers students continue to improve."
Hazou, who earned her master's and doctorate from Oregon State University, said Bethlehem University has taken significant strides toward its goal of academic excellence in all sectors, including academic programs, teaching, learning and research.
Among the numerous goals she has set for herself are the development of the existing Center for Teaching Excellence and the establishment of a deanship for research. She said she hopes "action research" will help teachers assess and improve their teaching skills.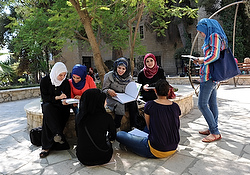 Hazou said she is aware that her long association with the university – which, in some ways, is a help – risks preventing her from pursuing ideas outside of the school's realm of comfort.
"I need to be considering innovative ideas to bring to my colleagues," she said. "I like to (have everyone) involved in the discussion. I don't fear differences in opinions. I appreciate seeing things in a new light. You need to be sensitive to what other people think."
Because of her deep connection with the university it is especially moving for her to now be in a position where she can follow through with ideas she believes will benefit the university, she said, particularly at this moment when the university is on the verge of "significant expansion" with the purchase-in-process of a nearby building.
With limited space to grow, the university has to carefully consider all options for the use of the property, an old hospital, and is weighing an array of possibilities ranging from enlarging current academic programs to establishing new departments, she said.
"Very exciting things are happening," she said.