Cardinal Baldelli, retired head of Vatican court, dies at 77
September 24, 2012
Catholic News Service
VATICAN CITY — Pope Benedict XVI offered his condolences for the death of Italian Cardinal Fortunato Baldelli, retired head of a Vatican court and a former Vatican diplomat, who died Sept. 20 in Rome at the age of 77.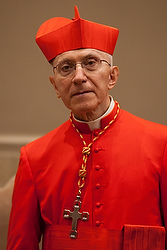 In a telegram Sept. 21 to the cardinal's brother, Pope Benedict said the deceased was appreciated everywhere for his "apostolic zeal and his fidelity to the Gospel."
A funeral was scheduled for Sept. 22 in St. Peter's Basilica. Cardinal Angelo Sodano, dean of the College of Cardinals, was to preside over the Mass.
Cardinal Baldelli had spent 43 years serving in the Vatican's diplomatic corps before Pope Benedict chose him in 2009 to head the Apostolic Penitentiary, a Vatican tribunal that deals with the most sensitive matters of conscience as well as with the granting of indulgences.
In his telegram of condolence, the pope prayed that through the intercession of Mary and of St. Francis of Assisi, God would welcome him into "the eternal kingdom of light and peace."
Born in Valfabbrica, in Central Italy, he was ordained a priest in 1961 for the Diocese of Assisi-Nocera Umbra-Gualdo Tadino. After earning a graduate degree in canon law, he entered the Vatican's diplomatic service in 1966, serving at Vatican embassies in Cuba and Egypt.
He worked for several years in the Vatican Secretariat of State before being named the Vatican's observer at the Council of Europe in Strasbourg, France.
In 1983, Pope John Paul II named him an archbishop and apostolic delegate in Angola. Two years later, he was named nuncio to Sao Tome and Principe. In 1991, he was named nuncio to the Dominican Republic and, after three years, was sent to Peru as nuncio. His diplomatic postings concluded with an unusually long term as nuncio to France, 1999-2009.
Cardinal Baldelli's death leaves the College of Cardinals with 205 members, 116 of whom are under the age of 80 and, therefore eligible to vote in a conclave to elect a new pope.