Fenwick Society Dinner Features Influential Bishop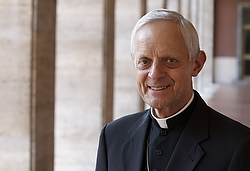 Cardinal Donald W. Wuerl, whom the Washington Post referred to as "one of the world's most influential bishops," will be the keynote speaker at the annual Bishop Fenwick Society Archbishop's Thank You Dinner on May 6.
"We are truly blessed to have Cardinal Wuerl as our guest speaker this year," said Father Benedict O'Cinnsealaigh, president and rector. "Archbishop Dennis Schnurr and the cardinal are personal friends, spending much time together through the United States Conference of Catholic Bishops. We're grateful Archbishop Schnurr was able to secure such a sought-after speaker."
Throughout the years, Mount St. Mary's Seminary of the West has depended on financial support from generous benefactors. The Bishop Fenwick Society (BFS) is a devoted giving society made up of benefactors who give $1,000 or more, annually, to fund the seminary and Athenaeum. To thank BFS members for their steadfast generosity, and encourage others to join, Archbishop Schnurr hosts an annual thank-you dinner.
This year's invitation-only event will be on May 6 will be held at the Hilton Cincinnati Netherland Plaza Hotel (downtown Cincinnati).
For the full story, visit the seminary's website HERE.