Event Celebrates Bishop Fenwick Society Benefactors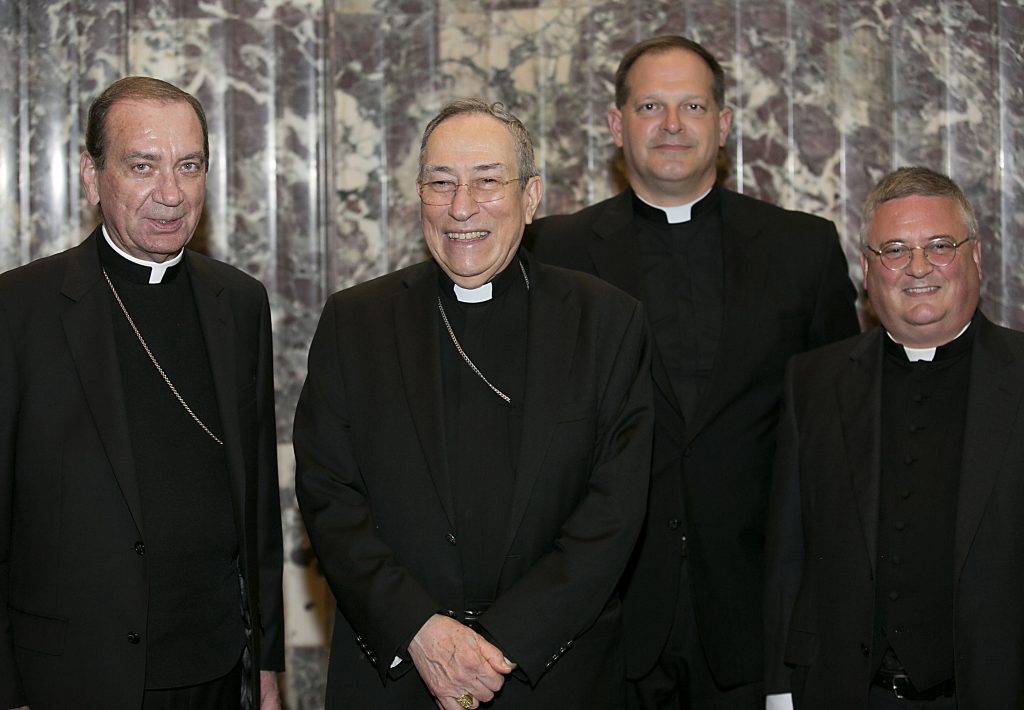 More than 500 Bishop Fenwick Society (BFS) members enjoyed Archbishop Dennis M. Schnurr's annual thank-you dinner May 4 at the Hilton Cincinnati Netherland Plaza Hotel. BFS members, seminarians, and faculty priests attended the invitation-only event as an acknowledgement for their spiritual and financial support.
Father Benedict O'Cinnsealaigh, outgoing president and rector of the Athenaeum of Ohio/Mount St. Mary's Seminary offered a personal thank you to those gathered, and welcomed the parents and families of the current ordination class. After the opening prayer, led by Brother Victor-Antonio Moratin, C.P.M., Father Benedict introduced his successor, Father Anthony Brausch.
"Being rector has been a lot of hard work, but even more so, it has been a lot of fun, a time of great grace, a time of energy and enthusiasm, a time of blessings from the Lord," Father O'Cinnsealaigh said, "I will always be grateful for the opportunity and the grace to have been part of this Athenaeum / Mount St. Mary's Seminary. Thank you for all your support and kindness, your hard work and dedication. Thank you all for the privilege of serving you as rector. I'm truly blessed."
"As I end my term, I believe that our next rector will be the best rector our seminary has ever had, and that's saying something considering the long list of outstanding rectors in our long history," he added.
Archbishop Schnurr expressed his gratitude to benefactors for their "passionate, steadfast support" and thanked Father O'Cinnsealaigh for "his hard work in shepherding this institution."
Óscar Cardinal Rodríguez Maradiaga, Archbishop of Tegucigalpa, Honduras, delivered the keynote address. He told attendees that in preparing his remarks for the evening he was reminded of a homily given by Pope Francis.
"When Pope Francis was Archbishop of Buenos Aires, during the Feast of St. Cajetan, for whom there is great devotion in Argentina, and speaking to those individuals who were carrying the image (of the saint) in procession, the then-Cardinal Bergoglio said to them, 'When someone 'lends his shoulder' to that which is close to the heart, so close that one directly feels the weight, one finds his place in life. When we 'lend our shoulders' to the needs of our brothers and sisters, then we experience with amazement and appreciation that Other who lends his shoulder to us.'"
'This evening, all of you, dear friends, do not simply participate in the formation of future priests with your material assistance, but you "lend your shoulder(s), because you lend your heart(s)," the cardinal said.
Father Brausch invited the seminarians to come up on the stage to surprise Father O'Cinnsealaigh with a proper send-off. Two Irish songs, "The Rocky Road to Dublin" and "The Parting Glass," were energetically performed to the delight of all and obvious enjoyment of Father O'Cinnsealaigh.