Field of Hopes and Dreams: How Cincinnati missionaries helped build a ballfield in Venezuela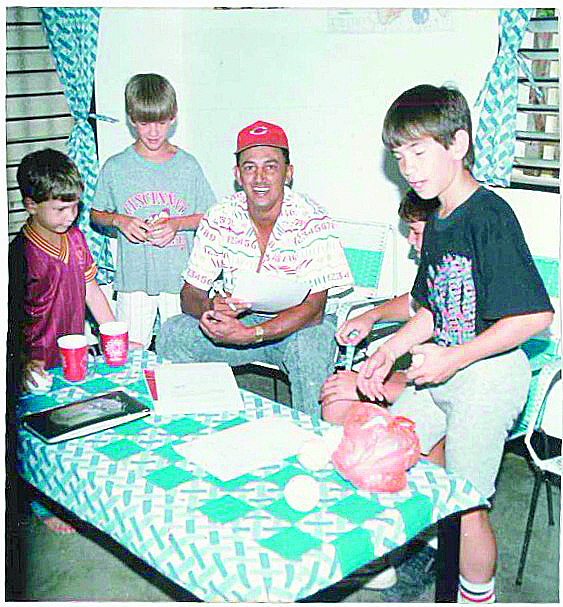 By Walt Schaefer
Missionaries, the Cincinnati Reds, the Venezuelan Air Force. A number of improbable things came together in 1990 to create Davey Concepción Field in Barquisimeto, Venezuela.
• Cincinnatian Mike Gable, his wife, Kathy, and their four young sons had been assigned to serve as lay Maryknoll missioners in Barquisimeto.
• Broomsticks and bottle caps helped the Gables connect with local Venezuelan Field youth in two neighboring barrios.
• Davey Concepcion had retired from the Reds and moved home to Venezuela.
•The Venezuelan Air Force had an overgrown, garbage-strewn, flat field at the edge of its Barquisimeto air base.
With the Reds about to begin a new season, the Gables will remember a very different Opening Day – the 1990 dedication of a tiny ballfield in Barquisimeto. Former Reds shortstop Davey Concepción himself dedicated the field, and the Gables rejoice in how it has helped change two poor neighborhoods by letting fathers and young people play sports instead of joining gangs.
It's also a tribute to missionaries and catechists who serve people worldwide, bringing Christ to their lives, said Gable, who today directs the archdiocese's mission office.
Asked where they would like to go as missionaries in 1989, the Gables chose Venezuela. "I coached four sons playing baseball, and our dream was to meet Davey Concepción," who grew up in Venezuela, Gable said. "About five minutes after getting into our house with other Maryknoll missionaries, our kids were out in the street with their baseball gloves. In five minutes 100 kids came, and one said, 'Oh my God! You have baseball mitts!' We had more baseball gloves than they had in the whole neighborhood. They asked to try them and each one took turns using the gloves.
"Then they asked if we 'gringos' could hit, but all of our equipment was packed up. They all ran off, and in about 10 minutes they came back with broomsticks and pop bottle caps. They were playing baseball by hitting the bottle caps with the broomsticks! We tried, and looked like hacks. They were laughing and saying, 'These gringos can't hit!' and they were smacking the caps. No wonder Venezuela has so many pro ballplayers. We were humbled."
Gable found that the boys played ball in a field about a mile away, but saw that a nearby level area covered with cactus and garbage had potential. The Maryknoll Fathers told the Gables to help the people in the neighborhood with whatever was needed. "They said, let the Spirit lead you," Gable said. "We ended up cleaning up that baseball field with our new friends."
While working on the field, the Gables found out that Concepción had been made the coach of a winter league team in Caracas and was bringing the players to Barquisimeto. "We thought, what the heck, let's go meet him. We got to the ballpark early and my sons had their Reds stuff on."
Concepción was in the dugout, putting his lineup together, and saw the Gables in full Reds regalia. "We explained we were missionaries in town, and that baseball might be a great way to work with kids in the neighborhood and in the schools serving the barrios. We thought we could use baseball to get kids to the sacraments and the Church, and work with other people in the area. We hit it off and got the idea Davey could come over and inaugurate our little piece of land. He said it would be an honor."
The field sat between two poor barrios. "We were able to buy a bag of white powder to make base lines and got about two feet of fence behind the plate," Gable said. "It's all we had, but people knew that Davey was coming. He gave autographs."
The field became a popular gathering place for youth, and someone asked Gable if they had permission to use it. Unbeknownst to him, it was on the Air Force base.
"We called the press to come with us to the base offices. A couple of my sons, and a couple kids in my neighborhood, and a couple of my catechist friends who were coaching with me went up to the base, knocked on the door, and what could the poor commandant say? I don't want to say we blackmailed the guy, but we talked to him." He gave permission to use the field.
Davey Concepción Field has grown over the past decades. Two years ago, Gable returned to check it out. "Over the years, my son, Paul, who is good with computers, would 'Google Earth' the site and watch the fields expand and expand," he said. "There are at least four diamonds now, and fields for the girls to play volleyball. I finally I got a chance to go back to that area and decided to see my friends. When I got there they hugged and cried with me.
"My friends told me the fields we started together have made a significant difference because we made space together for kids to play sports together; to learn to get along. They have stands put up, and backstops. And they said, 'Mike, you should know one of the kids who played on those fields played for the Reds." Shortstop Cesar Izturis ended his 13-year Major League career as a Red in 2013.
For information lay missionary work, contact Gable at (513) 421-3131, ext. 2630, or [email protected].