Fiorelli Family Inspired to Walk the Camino Together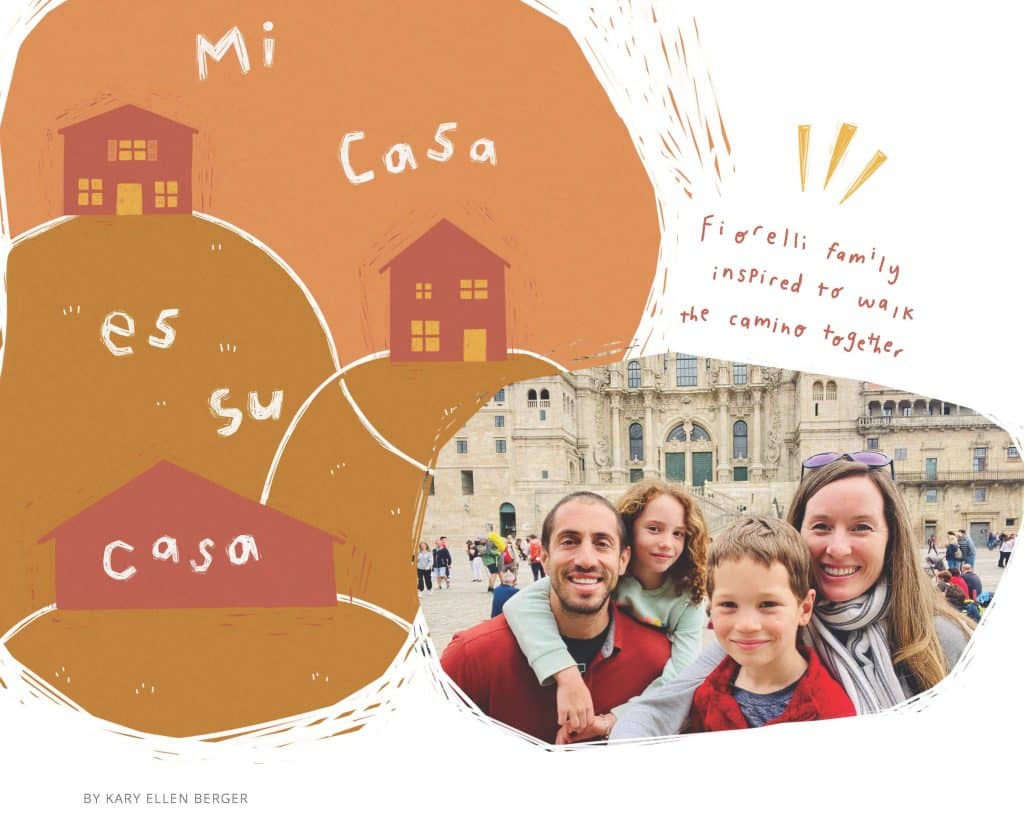 God has ways of working through us, especially when we aren't expecting it.
That's true for the Fiorelli family—Laurel, Nick and their children, Risa and Theo. Parishioners at Xavier University's Bellarmine Chapel, they have supported Su Casa Hispanic Center for several years.
|
Su Casa Hispanic Center, a program of Catholic Charities Southwestern Ohio, provides services, including emotional and physical support, to Cincinnati area Hispanic and Latino families. For the Fiorelli family, it also provided life-long friends.
"Su Casa has been a special place to us since we moved back to Cincinnati," said Laurel. "Five years ago, our parish got connected with the Kino Border Initiative, which aids Latin American immigrants in claiming asylum across our southern border. Sitting in church one Sunday morning, our priest announced that our parish had agreed to welcome a family of four from El Salvador, and that their most pressing need was housing. Nick and I exchanged a glance with each other, and in that moment, we both heard from God the same thing: that family is to stay with you. It was a powerful moment, and also confirmed that what we felt in that instant was a clear message from God, since we both felt it."
Parishioners helped convert their basement into an apartment, and the Fiorellis welcomed the El Salvadoran family into their home September 2017. While the family "If you choose to, walking the Camino can be a solitary experience," said Laurel. "Many people use it as a time to reflect, and to go on an inward journey even as they cover so many miles. But for us, walking the Camino was a communal experience, a way to participate in an ages-old tradition, to interact with a fascinating history, and to invite others to enjoy it alongside us in prayer or in giving. Su Casa walks along with migrants on their journeys, accompanying them through joy and pain, through hardships and successes, through things that affirm our belief in humanity and through things that break our hearts. In a small way, our intention was to join in solidarity with the hundreds of thousands of migrants who journey in the hopes of something better."
"I have known Laurel and Nick for a number of years, and they have always demonstrated inclusive and welcoming spirits; but their journey to El Camino de Santiago and how they linked that to their faith, spirituality, and personal reflections, took things to another level," shared Su Casa Hispanic Center Director Giovanna Alvarez. "In addition to the transformative journey that they experienced as a family, they raised funds for Su Casa. We are very thankful and hope they can serve as inspiration to other individuals and families that want to create a positive impact in our society."
"When we listen to [the] Spirit, it is unlikely our life will take a straight path," said Laurel. "On the contrary, it is likely that the unexpected will happen. Our involvement with Su Casa, and our walk along the Camino, are experiences that have changed the way we look at the world forever. We can never unlearn or unsee the things we have experienced, so we can never look at the world the same again. We can never withhold empathy or love from immigrants who have fought for their lives to be here. Never. And we can never take for granted the beauty in this world, and how incredible it is to journey it step by step by step. Never. We are so, so grateful for both."
This article appeared in the December 2022 edition of The Catholic Telegraph Magazine. For your complimentary subscription, click here.